Colo. PD's tactical vehicle for hostage, standoff situations turns heads
The Rook is outfitted with bulletproof glass and heavy-duty armor to protect against incoming gunfire
---
By Ashley Silver
COLORADO SPRINGS, Colo. — The eye-catching Rook tactical vehicle has peaked a lot of interest, turning heads and sparking intrigue in Colorado Springs.
KKTV 11 News caught up with the Colorado Springs Police Department after receiving several inquiries about the origin of the tactical vehicle parked downtown. The Rook is a modified construction vehicle that officers use in high-risk situations such as hostage situations or standoffs where they need to reach barricaded suspects.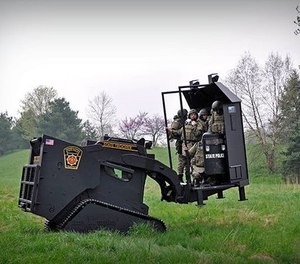 "Every time we've used this vehicle, it's been successful for us," Robert Wolf, tactical enforcement unit supervisor, told KKTV 11 News. "We had a situation where the vehicle was taking multiple rounds, and we were able to keep it in position and maintain security for the public."
The Rook can reach various building levels to rescue officers or civilians and has bulletproof glass with heavy-duty armor to protect against incoming gunfire.
The department was able to acquire the vehicle and complete modifications with a $300,000 grant awarded two years ago.
Request product info from top Armored Trucks companies
Thank You!