Product Review: LifeProof Case for iPhone
The LifeProof Case is complete protection for the iPhone in a low profile package
---
I recently tested the LifeProof Case, a water, snow, shock and dirt proof case for the iPhone 4 and iPhone 4S. This case has the most features available for the iPhone equipped officer, compared to most similar products. Since agencies have found dozens of uses for the iPhone as a law enforcement tool, the best practice is to equip officers with waterproof protection.
Tim Dees gets to test the technology innovations for Police1, but I get to beat on electronics and then write about it once in a while (Tim, I saw this first and was the first to scan the QR, so I get to test it!)
Everyone thinks they can make a rugged case for an iPhone. I'll tell you right up front what distinguishes this one. The LifeProof Case is complete protection for the iPhone in a low profile package. In fact, this case can generate plenty of bets.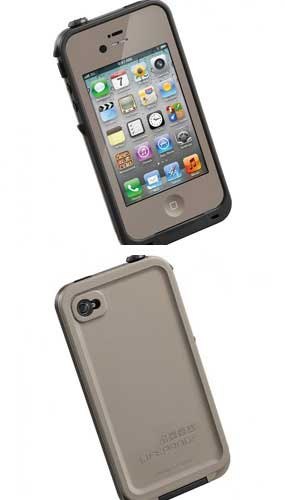 Grippy Elastomer
The LifeProof Case uses a polycarbonate frame with a "grippy" elastomer cover that offers a non slip grip even when wet, or, as I discovered while testing, when the hands are full of sunblock. The case efficiently distributes the shock of a dropped phone. I trusted this product with my own iPhone and subjected it to dropping and dunking without flinching.
I was especially encouraged with the method in which the product was sealed, which presses the case edge against a seal, clamping it with a hinged clip on the charging port. This means that the entire case doesn't have to come off when charging/synching.
The speaker and microphone are covered with sound transmitting membrane which really does transmit sound without muffling the sound.
Access to the iPhone features is a critical issue when using waterproof cases and LifeProof has the best solution I have seen up to now. There is a sealed plug that covers the earphone plug. This plug can be replaced with their general use headphone adapter, a plug with the same waterproof seal and a 3.5 mm female plug for any headphone set. The mute switch and volume buttons are protected by solid protrusions that keep them recessed but easily accessible.
Both still have the same tactile feel, covered by the elastomer.
Handlebar Cam?
How is this setup useful? Many iPhone users don't use these features, but the earphone switch can click the shutter. I experimented with LifeProof's handlebar mount, a quick release, vibration resistant cage for the encased phone.
Bicycle patrol has not had a good mechanism for a vehicle-mounted recording device, until LifeProof. The LifeProof bike and bar mount allows the user to rotate the phone almost 270 degrees and clip in and out instantly. I was able to click some pictures from the mount on the fly, in a penetrating ocean mist.
The camera lens is covered by a high quality optical glass AR lens. For fans of fail blogs, it is possible to film scenes underwater with this product, producing the same clarity as a "naked" iPhone.
For normal users like me, there are many apps that can be used in a downpour appropriate for the iPhone and I anticipate that new ones like Theodolite can aid investigators in evidence collection and preparing for testimony.
The thick cover of the LifeProof Case does a great job of protecting the face, enough users like me to stick it in a cargo pocket and forget about it. It is scratch resistant and, if my first couple of weeks of abuse didn't wear it out, officers should get years of use out of it. The "feel" of the touchscreen is different but response time and accuracy is unchanged. Rather than recess the screen so it is nearly unusable LifeProof has beefed up the structural integrity of the screen itself.
The LifeProof iPhone Case is a complete IP-68, MIL-STD-810F-516.5 protective case for the iPhone. In my years of beating on products before I recommend them, the LifeProof case for the iPhone can outrun nearly anything that duty can dish out, and look good on a duty belt.
Request product info from top Police Bicycles companies
Thank You!