PRESS RELEASE
Norfolk Police Department uses new vehicle to fight crime
---
NORFOLK, Va. — TRIKKE, the manufacturer of professional mobility products, is excited to announce the Norfolk Police Department has joined a growing number of law enforcement agencies across the nation in adding the TRIKKE Positron to its fleet of crime-fighting vehicles.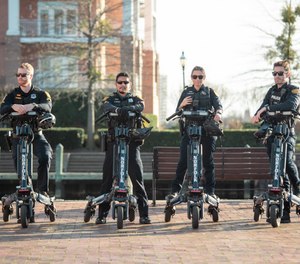 The stealth, emission-free vehicles can be used indoors, outdoors, off-road, and in all types of weather. They're an excellent tool to help police navigate large crowds and interact with the community. As gas prices continue to soar, the Positron comes with the added benefit of filling the need for green options to help law enforcement save on fuel costs and energy emissions.
"Since being delivered in June, I have been in a patrol car maybe once or twice. That's less fuel, maintenance, and green initiative friendly," said Norfolk Police Department Officer Mitchel Ashton.
The TRIKKE Positron offers law enforcement agencies several advantages over traditional policing methods, including:
The vehicles allow officers to move much faster than on foot patrol, enabling them to cover much more ground quicker while minimizing fatigue and body aches as offers carry a full gear load.
Its elevated stance is a tactical advantage, allowing officers to see and be seen above the crowd, fences, parked cars, and traffic. The taller stance also offers a more commanding posture.
Unlike pedaling a bicycle, there is no chain, shifter, derailleur, or crank to worry about when using the Positron.
The vehicle also offers far superior stability and balance than bicycles — no matter if they're going fast or slow, without the need to step on the ground to gain balance when stopped.
Improved public image perception of an officer on a modern electric vehicle vs. a pedal bike.
Compared to a patrol car, the Positron offers easier access to pedestrian ways and other confined areas, alleys, trails, and congested areas, stadiums, parking structures, and indoors.
Officers on the Positron can take multiple alternate routes to avoid traffic, meaning they can beat the response time of patrol cars during emergencies and act as a force multiplier.
Ride in and park right directly on-scene. No need to block streets.
Positron offers a lower operational cost than patrol cars, as well as requiring less fuel, maintenance, depreciation, and overall cost.
The TRIKKE Positron is a great community policing tool that empowers officers to maximize their approachability, visibility, and responsiveness.
To learn more about TRIKKE Electric Patrol Vehicles, click here.
###
About Trikke Professional Mobility
TRIKKE Professional Mobility is a US-based manufacturer and distributor of rugged professional-grade personal patrol vehicles with all-wheel-drive and a proprietary cambering design for efficiently moving around large campuses, congested areas, and public events. TRIKKE vehicles are quiet and ergonomic, with high-torque electric motors and heavy-duty construction. The frame folds flat for easy deployment and storage in a small footprint, and the lithium-ion battery can be swapped out for quick recharging. These vehicles are designed for around-the-clock operations and are currently in use by many police departments around the US. TRIKKE leads the law enforcement industry in reliable alternative transportation.

Request more info from Trikke Professional Mobility
Thank You!