PRESS RELEASE
Wheeling Police Department joins growing number of law enforcement agencies using TRIKKE Positron
---
The mobility device provides the tactical advantage needed for today's community policing.
WHEELING, WV — TRIKKE, the industry leader in reliable alternative transportation for law enforcement agencies, is thrilled to announce another police department, the Wheeling Police Department, has been enjoying the benefits of the TRIKKE Positron, helping both community engagement and crime-fighting efforts.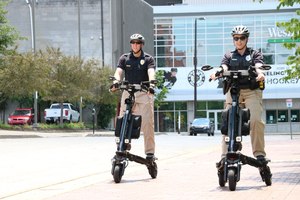 The TRIKKE Positron offers a number of benefits to law enforcement agencies everywhere, including:
The all-electric, emission-free vehicles enable officers to use their patrol cars less often, saving on emissions and fuel. They can be used indoors and outdoors, including off-road and in all types of weather.
They improve access to hard-to-reach areas, allow for faster response times during traffic, and can easily navigate crowded areas.
The vehicles are compact and allow officers to reach areas they would traditionally access on bike or foot, but since the Positron is motorized, the officers don't have to worry about breaking a sweat or becoming tired.
The up-close interaction the Positrons facilitate means officers can have closer and friendlier interactions with the community.
Due to their ease of accessibility, the Positron is perfect for use by officers on:
Airport duty
Campus patrol
Walking path patrol
Shopping district patrol
Any other traditional methods of patrol
The TRIKKE Positron is a great community policing tool that empowers officers to maximize their approachability, visibility, and responsiveness.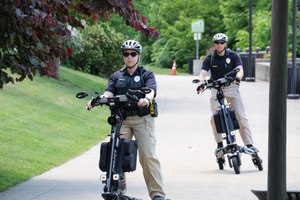 "Several residents have already seen the positive impact these new TRIKKEs are having in their area by just having the ability to stop, have a conversation, and have a positive interaction. It will no doubt increase our visibility and response time and enhance our continued efforts on community policing," said Lt. Josh Sanders, WPD special operations commander.
To learn more about TRIKKE Electric Patrol Vehicles, click here.
About Trikke Professional Mobility
TRIKKE Professional Mobility is a US-based manufacturer and distributor of rugged professional-grade personal patrol vehicles with all-wheel-drive and a proprietary cambering design for efficiently moving around large campuses, congested areas, and public events. TRIKKE vehicles are quiet and ergonomic, with high-torque electric motors and heavy-duty construction. The frame folds flat for easy deployment and storage in a small footprint, and the lithium-ion battery can be swapped out for quick recharging. These vehicles are designed for around-the-clock operations and are currently in use by many police departments around the US. TRIKKE leads the law enforcement industry in reliable alternative transportation.

Request more info from Trikke Professional Mobility
Thank You!