How to master armored vehicle response
An armored vehicle is like any police tool – personnel need to engage in realistic training to master the equipment before responding to a real call
---
An armored vehicle is not just a form of transport – it is a tactical tool that is part of a tactical solution.
One path toward becoming a team that masters its armored vehicle is to attend a class like the one offered by George Creamer, a 29-year veteran with the Los Angeles County Sheriff's Office and 15-year member of the Special Weapons Team. Creamer is the armored vehicle trainer for Integrated Tactical Concepts and will travel to train in your area upon request.
Classroom session outlines features, capabilities of armored vehicles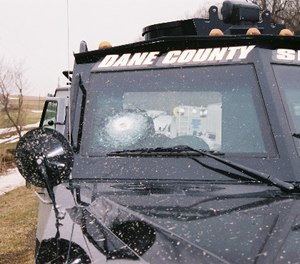 Creamer's highly regarded three-day course begins in the classroom during which he introduces nomenclature, and explains the design features and capabilities of armored vehicles. He shares how to navigate through the public relations, administrative and mutual-aid obstacles that accompany acquiring an armored vehicle.
Creamer teaches the use of vehicle rams in the breaching of windows, doors and walls, as well as the capabilities and limitations of ram cams. (A ram with a mounted camera was used to unwrap the tarp covering the boat the Boston bomber was hiding in the night he was apprehended. A ram was also used in the assault that ended the carnage at the Pulse night club in Orlando, Florida.)
Creamer trains in additional methods of breaching, including a rope and hook system, along with the choreography to ensure safe breaches.   
Hands-on training reviews armored vehicle positioning, safety
After the lecture, attendees climb into their vehicles and are encouraged to familiarize themselves with every detail of the truck, due to the fact it WILL come into play during practical application scenarios.
Creamer reviews items like which of the rear doors close first to ensure a secure latching, and why the rear doors, when open, protrude past the side of the armor truck. 
Teams will be forced to implement a protocol of how the doors are to be secured PRIOR to the truck moving In order to prevent injuries to officers.  
Creamer says, "I have seen and heard of injuries occurring to officers due to a lack of training and protocols." 
On day one, all will drive their department's vehicle through a course, as well as learn how to safely ride in, mount and dismount through every door. Creamer also begins training the "angle" in which the vehicle is positioned on call outs, such as barricaded subjects, vehicle barricades, high risk warrants, citizen or officer rescues, and hostage rescues. Utilizing angles of the vehicle allows more protection from the threat side of the problem.
Armored vehicle deployment considerations
On day two, operators learn how to read houses for deployment considerations and how to properly position the vehicle when a threat exists. They will apply what they have learned in "surround and call out" exercises.
A tactic for calling out and receiving the suspect is demonstrated and practiced. The specific jobs of the ARREST TEAM have to be assigned and implemented. These jobs include  the communicator, the hands-on officer, the less lethal officer, the lethal officers (which Creamer demands you always have two of due to how each person perceives a deadly threat) and, of course, the utilization of K-9. If the situation is a hostage rescue, Creamer emphasizes the need for the ARREST team to deal with the suspect and a crisis team to deal with the hostage(s).
Throughout the day, officers will practice repetitions utilizing the vehicle for:
High-risk warrants;
Man-down rescues;
Barricaded subjects;
Barricaded subjects in vehicles;
Hostage rescues;
Hostage rescues in vehicles;
Chemical agent deployment;
Breaching.
During the man-down exercises, the team is introduced to "a way" to rescue, not "the way." Throughout the training Creamer emphasizes there is no ONE way to do things.  He constantly reminds students to remain flexible and to be a thinker. During the exercises, the rescue driver will assume a block position between the victim and the threat exposing only the opaque side of the armored vehicle to the threat. These vehicles can stop repeated hits with 50 caliber rounds, leaving little more than pock marks on the armor; however, if windows exposed to the threat are hit they will stop the rounds, but multiple hits will cause them to fracture and will threaten the integrity of the glass.
On the afternoon of the second day officers conduct live fire from the turret, outside and inside the vehicle. Some operators quickly discover their weapon set-up prevents them from firing safely through the gun ports. There is an absolute safety requirement that the muzzle extend at least one inch outside the gun-port when fired. Add-ons to weapons such as lights, lasers, sights and slings may prevent this. Creamer explains that any round that impacts on the armor inside the vehicle, "will bounce until it hits something soft." Equipment is adjusted to accommodate firing through the gun ports. Operators wear body armor and helmets at all times in the vehicle.
After three rotations – to include shooting from the turret, ports and outside the vehicle – trainees do a fourth with gas masks on.
All attendees are required to fire from both their strong and support side. Creamer explains it defeats the purpose of an armored vehicle if tactical officers, not utilizing their support-side shooting position, expose a third of their body to fire strong-side from a support-side cover position.
During this training, many operators find that their shoulder weapon slings can become cumbersome and tangled on equipment or even the operator's arms and neck.  Creamer instructs all students on the importance of a functional shoulder weapon retention system to assist the operators in breaching, climbing walls to containment spots, rescues and any other activity that requires the weapon to be secured. Creamer says, "You can buy a retention system for 50 bucks or, I can show you a quick, inexpensive fix." After a short "crafts class," the operators are back in action.
SWAT response scenario training, officer debriefing
On the final day there is a quiz and then officers armed with Simunitions utilize their armored vehicle to handle these real-world scenarios:
Suspect barricaded in a vehicle;
Vehicle hostage rescues;
Man down;
Suicide stand-off;
High-risk warrant service;
Operation including K-9, TASER and flashbangs;
Barricaded suspect with gas delivery.
A critical part of learning takes place when the class debriefs its own performance after every completed exercise. This also prepares teams to carry on their training back at their agencies.
Conclusion
Officers nationwide face a variety of armed threats. It is reasonable to expect that officers sent to bring dangerous individuals to justice not only have access to armor on wheels, but also master the use of these life-protecting/saving armored rescue vehicles.
Police officers no longer ride to meet their adversaries mounted on horses wearing armor like the knights of old. Instead modern knights are mounted inside their armored transportation in the timeless pursuit of peace and justice.
Request product info from top Police Body Armor companies
Thank You!