PRESS RELEASE
Nonprofit works to keep K-9s safe on the job
---
Protective vests for K-9s don't come into play every day on the job, but having the vests helps Master Police Officer Tom Hendrickson feel "an added sense of comfort" that his K-9 partner is protected.
Hendrickson, who has trained dogs for the Hampton Police Division for 27 years, said six of the division's nine dogs have vests that provide protection from bullets, ballistics and stabbing — and all of the vests were provided free of charge by a Newport News nonprofit group.
Three siblings created the Atlantic K-9 Vest Fund in February and have raised about $30,000 to provide vests for K-9s serving Hampton, Newport News, Poquoson and other locations. The group has donated vests for 18 police dogs in Virginia, Maryland and South Carolina.
The operation started after siblings Randall Caldwell, Lucy Gellerman and Hannah Cordero learned that Krijger — a police dog with the Norfolk Police Department — was shot and killed in the line of duty on Jan. 11. The trio decided to raise money for K-9 vests, Caldwell said, and about a month later the nonprofit was operational.
"We really just wanted to give back to the K-9 officers who protect us as much as any human does," Gellerman said.
The desire to help K-9s serving in law enforcement stems from the siblings' upbringing around those agencies, Caldwell said. The three grew up in their family business, Atlantic Communications, which provides, builds and maintains wireless communication equipment for numerous agencies on the Peninsula. Gellerman and Caldwell still work for the business.
"People also just love dogs," said Caldwell, who called himself a "dog guy." The vests provided by the fund weigh about 6 pounds and are made by Armor Express to protect the torso-area of the dogs with Kevlar plates, much like a bullet-resistant vest would protect a human, Hendrickson said. Sabre, a 6-year-old German shepherd, wore a vest as he jumped over obstacles and participated in attack exercises, unencumbered by the armor.
Each vest costs between $900 and $1,200 and is customized to suit the K-9 and the organization it serves.
Caldwell said communities have rallied to raised money to donate to the fund in order to buy vests for K-9s, and private donors have individually paid for vests to protect dogs at specific agencies.
"We've seen an awesome outpour of support from the community," said Hendrickson, who volunteers with the fund. "It's amazing how many people want to contribute."
Caldwell said 100 percent of the money collected by the organization goes to purchasing vests.
In addition to protecting the K-9s themselves, a major motivating factor for the nonprofit is providing peace of mind for the handlers of these K-9s.
"I love seeing the look on a handler's face when he knows we can help protect his best friend," Gellerman said.
"It's very fulfilling for me and my family to help those who risk their lives," Caldwell added.
Hampton Police Division has seen one K-9 killed in action, according to Hendrickson.
Sarge was shot by a shotgun during a barricade situation in 1980 — Hendrickson keeps a newspaper clipping about Sarge on his office wall. Hendrickson said K-9s are brought to respond to situations on a case-by-case basis, but they wear their vests any time they're in action and that helps the handlers know the dogs are safe.
The fund currently has eight K-9s waiting to be fitted for vests, Caldwell said. Hendrickson said the rest of the Hampton police K-9s are in the process of getting vests, and one of the nonprofit's next goals is to outfit all 39 Virginia State Police K-9s, Gellerman said.
She encouraged those interested in volunteering, donating or learning about the nonprofit to visit atlantick9vestfund.org or the group's Facebook page. Atlantic K-9 Vest Fund is also hosting an event titled "Celebrating Local Heroes" at Bass Pro Shops in Hampton on Saturday from 2 to 5 p.m., when the community can meet law enforcement and emergency personnel. The fund also will present new vests to K-9s at the event.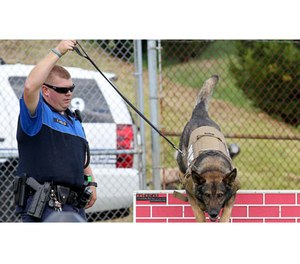 Request more info from Armor Express
Thank You!