Is this the death of rifle plates? Game-changing product release from Safe Life Defense
---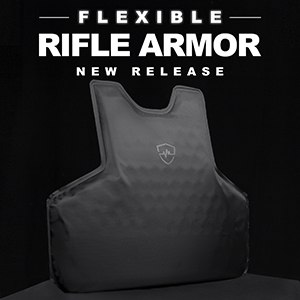 Police love Safe Life Defense soft body armor for its multi-threat protection. The SLD level 3a+ protects against handguns, shotguns, stabs, slashes, tasers, and even armor piercing rounds… BUT not rifles.
No soft body armor protects against rifles without additional rifle plates. And this is potentially a BIG problem for Police Officers, because it is important to be agile and discreet during a high threat situation. The problem with hard rifle plates is that they can severely hinder mobility, leave much of the body exposed, and are very heavy.
Well, Safe Life Defense has a solution that will put plate problems in your past.
Introducing the Safe Life Defense FRAS (Flexible Rifle Armor System) Level .233/5.56! It looks and conceals like soft armor but protects against the most common rifle threats.
How comfortable and thin is the FRAS? Well, the FRAS panels fit inside all the standard soft armor carriers made by Safe Life Defense – which means, the FRAS is VERY similar to soft armor in size and shape.
Here is what makes this new protection level special:
FRAS .233/5.56 FEATURES
·       Flexible Rifle Protection Against .223/5.56
·       Includes Multi-Threat Protection against Handguns, Shotguns, Strikes, Slashes, Stabs, & Tasers
·       Level 3 Spike/Stab Rating (Highest NIJ Level)
·       360 Degree Wrap Around Protection (FULL Front, Side, and Back Coverage)
·       Evenly Distributes Weight and Ultra-Comfortable (Only 17lbs in Large)
·       Truly Flexible & Adjustable for Different Body Types
·       Wearable for 12+ Hours without pain
·       Comes in 24 Unique Sizes (4XS-7XL)
·       Made for .223/5.56 Protection but Defends Against 7.62x39
·       Concealable like Soft Armor and Exclusive to SLD
.         Incident Guarantee and Great Fit Guarantee Included
·       Affordable; Financing Available through Quadpay
(To learn more about this new Flexible Rifle Armor or to order it for yourself, visit www.safelifedefense.com/FRAS)
So is the Safe Life Defense FRAS .223/5.56 really the death of rifle plates?
Honestly, it depends. If you only need protection against the most common handguns and shotguns and want to be able to adapt your body armor with ICW rifle plates – then you can invest in soft armor like the Safe Life Defense Level 3a+ with lightweight (only 5.8lbs) ICW rifle plates. BUT if your career is in law enforcement or military, where you are constantly and consistently in a high threat situation, then the Safe Life Defense FRAS Level .223/5.56 is absolutely life changing…
The SLD FRAS allows you to conceal your rifle protection. It flexes around your body, making sure your entire torso is completely protected against rifles – even your sides. AND it is comfortable and distributes the weight of your armor evenly, allowing you to wear rifle protection for hours WITHOUT PAIN. Simply put, it will make you want to leave your 10x12 hard rifle plates in the dust...
The FRAS makes it easy to understand why Safe Life Defense has a reputation for making great armor, because they always put comfort, protection, and practicality FIRST.
Look for the FRAS at Shot Show 2020! It is going to revolutionize the way Military, Police, and First Responders protect themselves against rifles. 
To get more information about any of the body armor or duty gear by Safe Life Defense, visit their website www.SafeLifeDefense.com or email them directly at info@safelifedefense.com   

Request more info from Safe Life Defense
Thank You!