PRESS RELEASE
New Clear, Free Standing Ballistic Panel Announced by Security Pro USA
---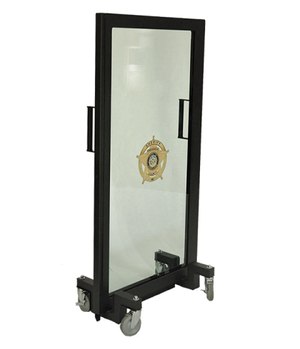 Security Pro USA announces a new, dramatic solution for movable ballistic protection. Security Pro USA has clear, free standing ballistic panels that provide high level protection with a modern look that integrates well in any environment.
Until recently, secure areas which needed ballistic protection were left with a poor choice of either clear plastic panels that allow people to see in and out, or solid walls that provide protection, but looked imposing and provided no transparency. The choice was broken down to either inhospitable or un protected. Security Pro USA now has a product that changes all this. And it is available for immediate shipping.
The Ballistic Glass Panel is a ballistic panel, which despite being completely transparent, provides protection from threats up to and including the venerable 7.62 millimeter round commonly found in many military rifles. The panels are mounted on a rolling chassis that allows them to be moved despite their weight (between 350 and 450 pounds depending on width) by one person. The panels are designed to be joined or linked to each other to provide a wall of clear protection that will not only direct incoming and outgoing crowds, but also provide protection from gunfire, with no spalling. Additionally, the panels allow for right angle joining meaning a complete closed off space of see-through panels can be created, while still allowing security forces to see out, and others to see into the space.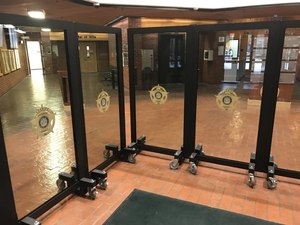 The Ballistic Glass Panel comes in two widths. They can be purchased in either 2-foot, or 3-foot-wide sections. This gives the end user a range of options to configure the secure area in a manner that meets their operational needs.
These panels are ideal for schools, public events, transportation hubs, and public buildings that want to have a readily available secure, bullet-resistant area, while still maintaining an inviting and open appearance that meets the public expectations.
For more information, or to purchase panels, visit Security Pro USA at https://www.securityprousa.com/products/ballistic-glass-panel.

Request more info from Security Pro USA
Thank You!