3 ways one USA armor manufacturer is working to serve LEOs
HighCom Armor maintains strict quality controls and helps police identify the certified ballistic protection they need
---
Sponsored by HighCom Armor
By Police1 BrandFocus Staff
Policing in America has evolved dramatically in the last 20 years – and so have the threats faced by law enforcement officers. It's important that LEOs and other first responders have the right equipment, in particular body armor, to protect them on the job.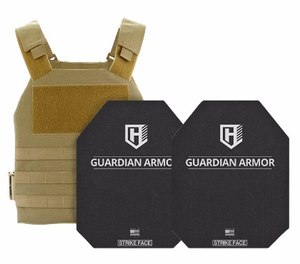 Most patrol officers wear soft armor with an NIJ rating of Level IIIA or lower to defend against handgun rounds up to 9mm, .357 and 44 mag – but these vests don't protect against the growing threat of high-velocity rifle ammunition.
The first step when purchasing body armor is to determine your threat level and look for armor that meets NIJ certification for the level of protection you need – but with all the options now available, choosing the right armor to fit your needs can be daunting.
Through its distribution network, American manufacturer HighCom Armor works with its customers before, during and after an armor purchase to make sure it's the right product for their needs and adheres to strict quality standards to provide certified ballistic protection products that stand up to the rigors of daily wear.
The Rifle Armor Kit: A One-Stop Shop
HighCom began offering its armor components in packaged kits in 2012. In recognition of the growing risk from rifle threats, the company developed the Rifle Armor Kit, or RAK, program in 2016 to expand the concept of an active shooter kit to a variety of situations and to provide a customizable armor solution in an easy-to-understand package.
"We have seen in recent years a disturbing increase in shootings against law enforcement officers. This increase in threats against LEOs is not a matter of abstract statistics. Our first responders need greater armor protection given the dangers they face daily," said Mike Bundy, president and COO.  "The Rifle Armor Kit was born from the end user needing rifle protection in many different scenarios."
Each RAK includes one carrier and two hard armor plates. The kit can be customized to your needs based on type of carrier, type of hard armor insert, carrier color and carrier cut.
Pricing starts at $357, and you can choose from five carrier vests and six hard armor inserts, including NIJ Level III and IV, plus a special rifle threat plate. Plates come in 10"x12" full and shooter's cut, and the five vests each come in five colors. Pouches, carrier bags and other accessories are also available.
All the armor plates in HighCom's RAK program that are NIJ 0101.06 certified come with a 10-year warranty. HighCom bases this industry-leading warranty on years of testing, both in house and in partnership with an NVLAP-accredited lab, using products deployed throughout the world over the past 20 years.
"This is a full 10-year replacement warranty, no ifs and or buts," said HighCom CEO Michael Gordon. "Because we're a 20-year-old company, we actually have shot plates that are over 10 years old and are perfectly fine. We've deployed over a million plates, and we've never had a failure, a penetration or a recall. We realize that men and women's lives are on the line when product leaves our plant, so it has to be done right every time."
Quality Assurance and Certification
All HighCom's plates are made in the company's manufacturing plant in Columbus, Ohio. The facility meets ISO 9001 quality control standards, and HighCom was the first armor manufacturer in the world to achieve BA 9000 certification, which is specific to armor manufacturing and adds an extra layer of quality control.
"Certainly for us, quality is No. 1," said Bundy. "We're delivering products in the marketplace that are designed to protect the lives of men and women serving our country."
BA 9000 requires that HighCom must be able to trace the provenance of raw materials, conduct internal lab tests of those raw materials before production as well as testing the finished product, and compare results between in-house and independent testing to ensure quality. The company tests every lot of plates in its own lab for quality control, as well as sending them to a third-party NVLAP-accredited lab for NIJ certification.
"With ISO and BA certification, we maintain those standards consistently, day in and day out throughout our operation," said Bundy, "so that when we're producing thousands of parts and pieces within the armor system, we know that each and every one of them will perform above and beyond the standards each and every time."
Customer Service and Support
Bundy says customers often have a sense of what they need or an idea of the product they're looking for, but can easily be overwhelmed by all the different options in the marketplace. HighCom's customer service and support includes not only working through its large distribution network but directly with end users to discern their needs and help them make a smart purchase.
HighCom also makes their products available online for individual purchases directly from the factory and posts prices on its website for transparency. Because HighCom is the manufacturer, they are able to offer their armor products at a lower cost, and the company keeps inventory in stock so orders can be filled quickly.
"We really are passionate about taking care of our law enforcement," said Gordon. "When people need these kinds of products, you don't want to say it'll be 90 days."
Additionally, because HighCom can trace each plate through its life cycle for ISO and BA requirements, the company can provide logistics support for departmental purchases, packaging and labeling each plate in a shipment for easy distribution to each individual officer.
"Anytime you're buying a product, it's nice to know where the buck stops," said Bundy, "and it's good to have that direct communication with the customer to understand what their needs are. We will do everything we can for our customer, and it's reflected in the way we make our product, handle it, packing it for protection during delivery. We're all about customer service." 

Request product info from top Tactical Armor companies
Thank You!