How Safe Life Defense is making body armor more affordable for individuals to purchase
The company offers multi-threat body armor in set sizes to make buying a vest simpler, faster and cheaper
---
The following is paid content sponsored by Safe Life Defense.
By Police1 BrandFocus Staff
It's no secret that body armor can save an officer's life. But many departments lack the funds to provide every officer with a vest, and the price of a vest can make it difficult for an individual to afford one.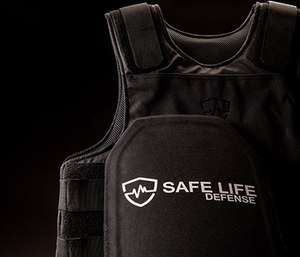 New manufacturer Safe Life Defense is on a mission to make it easier for first responders to obtain body armor by providing NIJ-rated multi-threat protection at an affordable price.
The company realizes cost savings by manufacturing its own material and producing vests in set sizes with multiple points of adjustment to fit most body types. The vests also provide protection against multiple threats so that buyers don't have to choose between knife or bullet defense.
Strike, slash and bullet-resistant
Traditionally, the first step in buying a vest is identifying the threats you're most likely to face in the field. Protection from handguns is different from what's needed for rifle rounds, and knives are another matter entirely.
Because of this complexity, most ballistic vest manufacturers don't offer protection against multiple threats. But Safe Life Defense has developed a Level IIIa-rated vest that is strike-, slash- and bullet-resistant for a one-stop solution.
"We wanted to create a vest that would protect against all of the common threats that someone would come across and offer as much protection as we possibly could," said Nick Groat, founder and CEO of Safe Life Defense.
The vest also has pockets for rifle plates, which can be purchased separately.
Manufacturing and testing
Groat and a team developed the multi-threat vest, which is made with aramid threads, over the course of two years. Creating their own ballistic material instead of purchasing premanufactured Kevlar sheets significantly cuts down on the cost.
The result is a layered fabric that provides structure and strike resistance as well as bullet resistance. The vests are water-resistant and machine washable, and they feature a mesh liner for breathability and reduced odor.
Safe Life Defense tests the vests in house to make sure they are performing as expected. They also send samples to the Oregon Ballistics Laboratory for certification.
Savings through set sizing
Most ballistic vests are custom-fit items, which increases the time and cost of production. It also requires that a customer submit his or her measurements, which leaves room for error.
Safe Life Defense vests come in set sizes, 4XS-7XL, and are designed with 10 points of adjustability to provide a wide range of fit options without the need for custom measurements.
Because they are produced in large batches rather than one by one, Safe Life Defense vests can be made faster and cheaper. The vests are ready to wear off the shelf and can be shipped immediately. At $449, they are priced at roughly half the cost of comparable products.
The 10 points of adjustment enable you to customize the fit for maximum comfort. Two attached shoulder straps adjust height, and four independent comfort straps connect at eight points of your choice on the front and back of the torso. Each vest comes with a set of four straps, and you can order a spare set as well.
Customer service
The company offers a fit guarantee and will exchange a vest for free within 30 days if you feel that it doesn't fit properly. So far, said Groat, they've sold more than 1,000 vests with zero returns.
"We've had a ton of positive feedback on the adjustability, fit and quality of our vests," he said.
Safe Life Defense offers a five-year manufacturer's warranty on all ballistic panels and plates and a two-year warranty on all carriers. The company also provides an incident guarantee.
"If someone is shot while wearing our vest, we'll replace it for free," Groat said. "We don't want them to have to fork over some more of their hard-earned cash to buy another vest."
Groat and Safe Life Defense are working to make it easier for individuals to buy body armor by offering multi-threat protection in a range of standard sizes. By reducing the costs and of ordering a vest, Groat hopes to provide more protection to more first responders.
"We want to make sure that we have a quality product they can wear on a daily basis and be confident in, that would provide everything they need at a price point that would be more affordable," said Groat.

Request information from Safe Life Defense
Thank You!