Product review: HRT RAC plate carrier
Putting a rapidly customizable plate carrier to the test
---
At SHOT Show 2019, HRT came out with a new plate carrier called the RAC, which boasted ultimate modularity, as well as comfort. I tested the RAC, which was designed with input from law enforcement, over a few months and was really impressed with the product.
Assembly of the RAC
I received the RAC, general purpose pouch, dual removable GP pouches, as well as the response placard and a tourniquet pouch.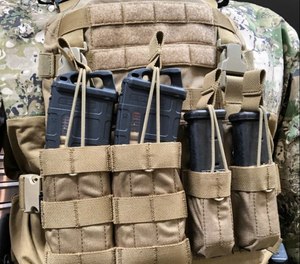 When you receive a system like this you have to spend some time putting everything together. This alone gives you some idea of the designer's mindset and influences.
The RAC as a plate carrier hits all the core components you might be looking for and comes in a number of different colors to suit you or your team's needs.
It has an escape buckle up front ‒ many think of this as being a maritime necessity and while I believe that could be true for some agencies operating in these climes, the more likely scenario that generates this buckle's value is the arrival of the medic. These folks have amazing scissors that cut nearly anything, and they are taught to EXPOSE when they have a wounded patient. I'd much rather they have an easily viewable exit buckle than irreparably cut through my plate carrier, ruining it forever while chasing a possible injury.
The RAC also has a reinforced drag handle and Velcro support loops for assisting in routing communication cables or hydration tubes. Overall, I found the RAC to be extremely adjustable both in girth and height without sacrificing comfort. The shoulder straps stayed far enough apart to not worry my neck but were wide enough to not compromise my shoulder pocket for long gun use. On the body side, I found Velcro straps to attach HRT Pontoons, giving a slight lift of the RAC off the body, allowing airflow for cooling during hotter months.
The RAC is not covered with MOLLE as one might expect. Things are a little more refined here. While there are MOLLE and Velcro up top, the main connection in the front is through a snap buckle system, as well as a couple of MOLLE loops and Velcro. This means you can quickly attach a front placard to your RAC by slapping it on and going. In the rear, there are two positions to place pouches, and they attach with two MOLLE slots, hook and loop, and zippers on the side for a secure connection. The whole thing cinches up with a belt using plastic clips though a cummerbund is available for sale.
Up Front
Again, we see the influence of law enforcement with a 2x2 setup in the response placard. This refers to a pouch set holding two pistol magazines as well as two rifle magazines. Adjustable bungee mag retainers are also included. Other placards are available for sale on the website, almost anyone can find one to suit their needs. By the same token, you can switch your front placard pretty quickly. Why would you do this?
Any good team, tactical or not, is cross-trained in multiple disciplines. If you're rolling out on a mission and realize your breacher isn't showing up, you can quickly swap out to the shotgun placard and be extremely happy with 21 loops of shotgun ammo, including your breaching shells. The ability to change is slick, quick and ultimately useful. Once it's mounted, it's also solid as I found out in testing.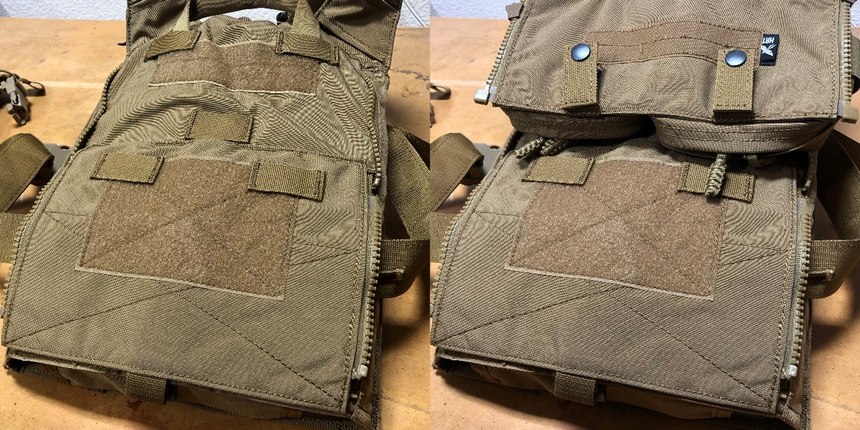 In the Rear With the Gear
Some folks think of the back of a plate carrier as a no man's land. It's not something you can easily reach or manipulate, but HRT believes it is potentially valuable real estate. The company set up the rear plate with a couple of different slots to lock in pouches that make the most sense to the wearer. You can run it slick, however, you can plug in a GP pouch that also has a good external Velcro section for ID, police, sheriff, or agency. The GP pouch is a great size to hold miscellaneous gear and has a front zipper.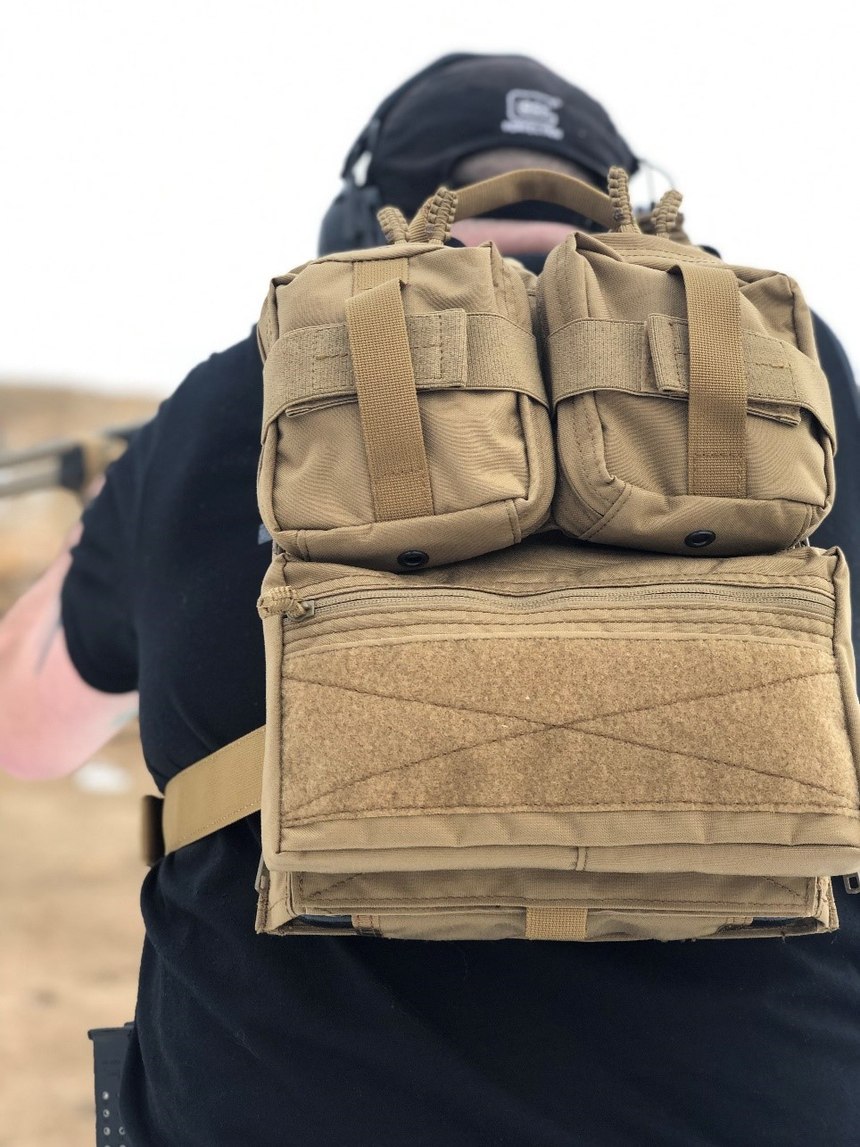 The dual removable GP pouches are pretty cool too because they load from the top with zippers, and are quickly removed from the carrier with Velcro and elastic retention straps. Let your imagination wander, but I thought these might serve well to hold med kits to pass off to downed casualties while traversing the hot zone. A teammate could easily manipulate these for you. Alternatively, you can pack these back pouches with whatever you want and use them on a mission when time allows. If you're off perimeter and can remove your carrier, you'd have food, batteries, or anything else you might need.
Testing
When testing a plate carrier, you have to run the gear in scenarios you might imagine its usefulness to you. I tested at the range, beating the shoulder pockets up with a Mossberg 930 SPX Tactical to make sure they were comfortable. They were, despite repeated abuse. I ran around my range, banging off barricades and other structures while conducting reloads to rifle and pistol. The RAC was outstanding both in comfort and utility.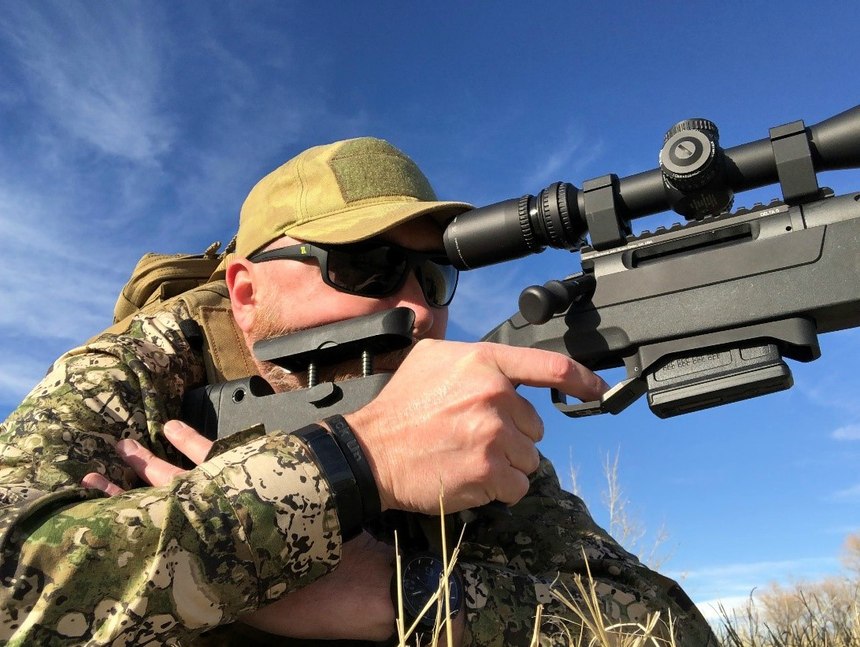 I laid in the carrier, proned out for some long-distance shooting with the Delta 5 from Daniel Defense. Here again, I was surprised at the level of comfort afforded by the RAC. Though I have to admit, the plates I was using likely had a great deal to do with this. Regardless, everything I did was comfortable and the RAC held together very well.
ShotStop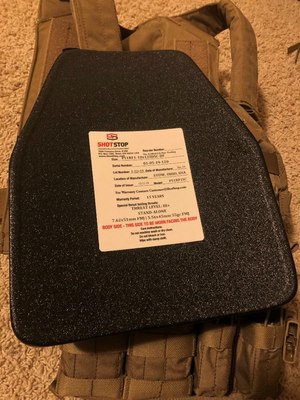 Any carrier is only as good as the plates that do the protecting. For this testing, I requested plates from ShotStop. Vall Iliev, founder of the remarkable company, escaped from communist Bulgaria and was around for the Kennedy assassination. This historical event played a formative role in his life and he began working on technology that could stop bullets. Over the years, he made it lighter and thinner. Now, the whole team at ShotStop creates amazing and affordable products that are lightweight and extremely strong.
I wore Level III+ rifle plates made of Duritium that were only .7 inches thick and tipped the scales at 3 pounds each! These things are amazing. I've worn steel and ceramics for years, but the plates from ShotStop offer multiple hit protection and are super lightweight, unlike steel. Also, you don't have to worry about dropping them because they're made of polyethylene. One of the greatest benefits is they have a 15-year warranty.
These plates were extremely comfortable because of their contoured shape and made my overall experience wearing the carrier a treat. Light plates decrease your overall weight, meaning you can load up with ammo, gear and whatever else you need on your mission without weighing you down.
SHOt SHOW 2020
For the individual officer, a tactical team or anyone needing a customizable plate carrier and sturdy, lightweight plates, you can't go wrong with the HRT RAC and plates from ShotStop. The plates are also available for sale through the HRT website.
Check HRT out at SHOT Show 2020 at booth #20629. ShotStop is conducting no BS demonstrations of its plates across the country. Contact the company here to set up something for your agency.

Request product info from top Tactical Armor companies
Thank You!