Spotlight: Angel Armor's unparalleled ballistic solutions protect those who protect the public
Angel Armor offers five distinct product lines that exceed industry standards
---
Company: Angel Armor
Headquarters: Colorado
Signature Product: Ballistic Armor
Website: http://armor.angelintelligence.com/
Q&A Questions:
1. Where did your company name originate from?
The name came from the essence of what an angel stands for and the emotion that an angel's presence provides. An angel's first words to those they protect are, "Do not be afraid." An angel brings a sense of confidence, shedding light on what was once darkness. Like an angel, we exist to intervene in times of distress and lighten the load on those who protect our world from threats.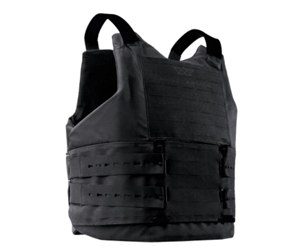 2. What was the inspiration behind starting your company?
Angel Armor was born on the premise of valuing life — so much so that we've made it our mission to protect it. The technology that Angel Armor was built on was first developed in 2000. Since then, our high-end composite solutions have been utilized in technology found in deep sea to deep space. Through heavy R&D, we discovered these technologies had ballistic capabilities, and the ongoing pursuit of the most advanced ballistic armor solutions was set in motion. The Angel Armor brand encompasses ballistic armor technologies and products, specializing in complex formed armor for on-body applications, vehicles and spaces.
3. What is your signature product and how does it work?
Our unique ability to offer a variety of ballistic armor, ranging from soft to hard and concealed to structural, distinguishes Angel Armor's technology. This signature feature has resulted in five distinct product lines: Avail™ Ballistic Door Panels, Enlight™ Window Armor, RISE™ Concealable Armor System, the Truth SNAP™ Magnetic Plate System and Ally One™ Portable Armor Inserts. Each of these products provides impressive handgun and special threat protection that exceeds NIJ Level IIIA and industry standards.
• Avail Ballistic Door Panels exceed NIJ standards for multi-round and special threat protection, all with a single panel and simple installation. Our proprietary design optimizes the coverage area for each unique make and model. The concealed and weatherproof panels are made for both driver and passenger side doors for the industry's top vehicles. Rigorous testing ensures maximum safety and peace of mind, so you can respond with confidence in any situation. Pair with Enlight Window Armor for full-door coverage.
• Elevate your vehicle protection with Enlight Window Armor. Our premium design features maximum coverage for officer safety while allowing for civilian interaction and engagement. The window armor does not interfere with door functionality or require removal of the existing window — and no additional hardware is needed. Upfit your vehicle with Enlight Window Armor for every mission and see it through. Pair with Avail Ballistic Door Panels for full-door coverage.
• RISE Concealable Armor System is engineered for ultimate safety, comfort and versatility. Designed from the ground up, this armor vest defines a new standard for soft body armor. When combined with the revolutionary Truth SNAP™ ballistic plates, this armor system delivers concealed rifle threat protection for extended, all-day use.
• Pack more protection in your body armor platform with the redesigned Truth SNAP magnetic plate system. The innovative, two-piece design offers tiered protection from NIJ Level IIIA to NIJ Level III threats, including common rounds from the AK-47, 5.56 and .308. Thin and lightweight, Truth SNAP addresses nearly every relevant spike, stab, handgun and rifle threat you face on duty.
• Ally One is a portable and concealable shield that is always by your side. The lightweight and convenient 9 x 12-inch size is perfect for discreet protection within backpacks, briefcases, laptop bags and more, exceeding NIJ standards for multi-round handgun protection. With unlimited applications, an ultra-thin design and weatherproof seal, Ally One armored panels provide confidence in any situation.
4. Why do you believe your products are essential to the police community?
Angel Armor elevates protection to a higher level by dedicating advanced research, design and unparalleled testing standards to the development of advanced ballistic solutions. With these solutions, Angel Armor provides uncompromising and revolutionary on- and off-body armor for those who protect our way of life — including the EMS, fire and police communities. When it comes to protecting those who protect us, we challenge the status quo and are never satisfied with today's technology. We are in a perpetual state of advancement to continue to give the good guys the advantage.
5. What has been the biggest challenge your company has faced?
Angel Armor's growth planning and focused roadmap are essential. In very little time, our efforts have captured the attention of the world's most elite forces. Our Research and Development team continues to excel and push the boundaries of ballistic technology. It is critical that we stay focused and disciplined to remain true to our mission — and to our customer's mission. It's an exciting challenge that we are embracing with commitment and confidence.
6. What makes your company unique?
We exist to develop and deliver ballistic solutions at a higher level, and the way we fulfill this calling is what makes us unique. Our proprietary design and manufacturing processes, environmental and ballistic testing standards and utilization of our proprietary regression curve analysis testing are just a few items that set Angel Armor apart from the rest of the industry. Our semi-rigid/hard armor utilizes a proprietary design and manufacturing process, while our soft armor utilizes a proprietary material and design.
7. What do your customers like best about you and your products?
We are honored to consistently hear positive feedback about our exceptional customer service and our innovative armor solutions designed with the end-user in mind. However, one of the best and most common compliments we receive has nothing to do with our revolutionary technologies — it pertains to the character of our employees and the culture of our company. After a recent SHOT Show meeting with a prospective international channel partner, we received an email stating: "I must admit, we were very surprised and deeply impressed by what we perceive as the 'culture' of the company and its people — very rare in business in general and especially under the roof of this show!" At Angel Armor, we seek out those with integrity, drive and a solid moral compass. We believe this is recognized and appreciated in our industry.
8. What is the most rewarding part of serving the first responder community?
We are humbled and honored to meet the people we serve on a daily basis — this is by far the most rewarding facet of our business. We feel that we are serving our communities alongside our law enforcement and first responder partners, and we approach those relationships very intentionally and personally. The business of saving lives is what drives us.
9. Do you support any charitable organizations within public safety?
Angel Armor supports a number of organizations that honor those who protect and serve. A couple of these organizations include the Police Unity Tour benefiting the National Law Enforcement Officers Memorial Fund and the Police Explorer Program.
10. Is there any fun fact or trivia that you'd like to share with our users about you or your company?
Behind Angel Armor's ambitious mission and distinguished reputation are employees who take pride in their work, but also know the importance of having fun along the way. We hold an annual company Olympics that tests the brains, brawn and ingenuity of our employees, company BBQs in our communal kitchen are a weekly summer norm and we host things like our annual FREEZE Day to show appreciation for our local LEOs and public safety officials by serving them ice cream on a hot day. We take our work, relationships and community involvement very seriously.
11. What's next for your company? Any upcoming new projects or initiatives?
We're excited about the perpetual advancements of our ballistic technology and the new product lines that are in the works. Expect to see more innovative solutions from Angel Armor in the near future. Keep checking angelarmor.com for the latest.