What good is body armor that you don't want to wear?
This tactical vest and soft body armor duo offers comfort and protection in the field
---
Sponsored by Vel Tye
By Laura Neitzel for PoliceOne Brand Focus
Being protected by your soft body armor matters. But if it's not comfortable to wear, some officers may be tempted to forego wearing it at all or take it off before a long shift is over. In fact, although studies show that an officer wearing body armor is more than three times more likely to survive being shot, every year officers with duly issued body armor are killed or injured because they are not wearing it at the time of an incident.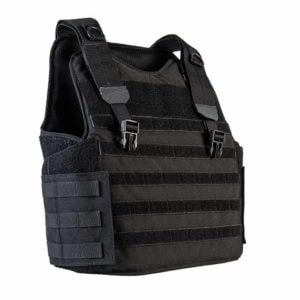 By pairing a comfortable tactical vest with NIJ-certified soft body armor, chances are more likely that an officer will be wearing protection when he or she needs it most.
"That's the whole point of finding a comfortable system, because that one time that you think you don't need that vest, you end up in trouble," said Joe Watts, who works in the armor development and certification program at Vel Tye, a manufacturer of American-made tactical gear. "And you end up in trouble that could cost you your life."
Designing a better body armor system
As an Army veteran, Watts knows how important it is to wear body armor – and also how miserable it can be.
"I remember being in Afghanistan, being very hot, being very tired, being very uncomfortable in this over-the-top tactical vest and body armor," he said. "It occurred to me that whoever developed that vest had to have no real concept of what it was like to wear a vest like that."  
Vel Tye's founder, Navy veteran Steve Herring, spent nearly nine years perfecting the Hugger Tactical Vest to improve upon the tactical vests and body armor he had worn in the military. When Watts joined Vel Tye, he and Herring dedicated themselves to developing Level IIIA soft armor to pair with the Hugger so law enforcement can have both comfort and protection in one body armor system.
Mastering the tactical vest
Their goal was to make sure the Hugger with body armor would be comfortable, easy to put on and take off, and offer a good fit and range of motion. Here's how the Hugger achieves these goals constantly:
Comfort. Two key features help make the Hugger more comfortable than other vests. The first is fit. An ill-fitting vest can slump forward and pull on your neck or torque your back, says Watts. Because the Hugger Tactical Vest is designed to do just what the name implies – hug the body – it stays in place.
The other comfort feature is the breathable sports mesh lining inside the vest.
"I've worn some very uncomfortable systems that were like wearing a portable sauna. You get hot, you get uncomfortable, you get sweaty," said Watts. "But the sports mesh really breathes well."
Easy to put on and take off. A law enforcement officer needs to be able to put a vest on quickly and be comfortable right away, so the Hugger is also designed to be quick and easy to put on with a minimum amount of adjustment.
"Once it's set up properly, it can be thrown on and ready to go in seconds," says Watts. "You can basically get one side set up to where that setup is always the same, and you close and open from the left or right side, depending on how you want to set it up. It's very easy to take off and put on."
Range of motion. Well-fitting tactical gear is more functional and less likely to interfere with the mission at hand. That's why Vel Tye makes the Hugger vest adjustable so that in the heat of action the wearer's arms can easily move into a tactical position without being pinched, tugged or pulled.
The Hugger Tactical Vest is also compatible with a wide range of magazine pouches and accessories and can be configured for optimal range of motion and individual preferences. The cut of the vest will be based on how the wearer will use it, what type of armor plates they use, the MOLLE style they prefer and where they want comm and D-ring locations.
Once Vel Tye nailed down the comfort aspect in a tactical vest that could accommodate armor plates from other manufacturers, the next step was to design their own Level IIIA soft armor so the package would be complete.
Designing better armor
Vel Tye wanted to build their own body armor and create an NIJ-Certified Level IIIA soft armor body armor system that's also Berry Amendment-compliant, meaning it's 100% made in the USA using U.S. materials.
Level IIIA armor is tested to stop up to .357 SIG and .44 Magnum ammunition fired from longer barrel handguns. While it doesn't provide protection from rifle ammunition, Level IIIA soft body armor will protect law enforcement officers from the most common ballistic threats they are likely to encounter in the field.
Vel Tye designed its 3A Armor Model 1  to exceed these industry standards.
"It's important for body armor to stop the person from being killed by stopping the ballistic cartridge from striking. But the other thing you've got to worry yourself about is this energy moving back into the body from the system, and that's deformation," said Watts. "Our system stops at about 25 millimeters. The industry standard is 40 millimeters."
The combination of the Hugger Tactical Vest with the 3A Armor Model 1 soft body armor makes for a ballistic system that is able to do its job well all day long, says Watts. And the fact that it's 100% American made is something everyone can feel good about.
"I erred more toward the side of safety," said Watts. "I wanted the system to be able to stop and stop well."

Request information from Vel Tye
Thank You!