PRESS RELEASE
Tasmanian Tiger introduces the TT Plate Carrier QR LC for lightweight plate carrier needs
---
The TT Plate Carrier QR LC weighs 2.87 lbs. and is made from Cordura® 700 Denier (Multicam 500 Denier)
KNOXVILLE, Tenn. — Tasmanian Tiger®, a tactical nylon line of products distributed exclusively for the US market by Proforce Equipment, Inc., has announced its latest product, the TT Plate Carrier QR LC. This lightweight plate carrier is designed to offer a sleek and modern look, with a MOLLE system in laser-cut technology.
"We are thrilled to launch the TT Plate Carrier QR LC for the U.S. market," commented Richard Lewis, President and CEO of Proforce Equipment, Inc. "This plate carrier is the perfect choice for those who require a lightweight and customizable solution for their tactical needs. With its sleek design and innovative features, we believe the TT Plate Carrier QR LC will quickly become a popular choice among the military and law enforcement communities.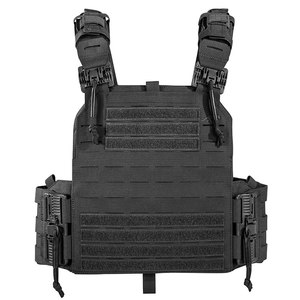 The TT Plate Carrier QR LC is designed to fit SAPI plates of 12 x 10 in. (30 x 25 cm). It features a quick-release system with ROC buckle, which allows the wearer to quickly and easily remove the plate carrier in case of an emergency. The shoulder straps are adjustable, ranging from a minimum of 11 in. (28 cm) to a maximum of 20 in. (52 cm), providing a comfortable and customized fit for all users.
One of the most notable features of the TT Plate Carrier QR LC is its laser-cut MOLLE system, which gives the plate carrier a clean and streamlined look. The front and side areas of the plate carrier also feature a MOLLE system, which allows for individual customization and extension.
Additionally, the TT Plate Carrier QR LC is compatible with many other TT products, allowing for seamless integration. The plate carrier also includes an integrated radio equipment pocket and switchable side sections for using pouches for ballistic side plates.
The TT Plate Carrier QR LC weighs 2.87 lbs. and is made from Cordura® 700 Denier (Multicam 500 Denier). It is available in Black, Olive, and Coyote for an MSRP of $379.00 and Multicam for an MSRP of $399.00.