PRESS RELEASE
Get the Shirt and Get In On the Charitable Effort – Make a Difference
---
Central Florida, September 27, 2014:  For a second year SWAT Life: Brothers for Adversity has joined up with Special Operations Warrior Foundation in a charitable effort.  A custom shirt designed with help of international photographer – Tom Weber of Milpictures.com. The shirt's design features the two groups who are at the tip of the spear when adversity strikes:  Special Operations and Special Weapons and Tactics. 100% of all the proceeds will be divided between Special Operations Warrior Foundation (SOWF) and the Stephen House SWAT Life Scholarship. The shirt comes in two (2) versions:  Performance Black and Cotton OD Green.
SOWF is a top-rated nonprofit organization charity benefitting fallen and wounded members and families of the Special Operations community. SOWF promotes support through two primary programs: College educations to the children of fallen Army, Navy, Air Force and Marine Corps special operations personnel, and Immediate financial assistance to the families of severely wounded special operations troops.
The Stephen House SWAT Life Scholarship is named for fallen SWAT Team Leader Stephen House. The scholarship goes to support tactical teams in need of training and equipment as well as families in the tactical community.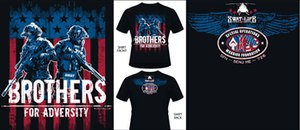 For more information about the Special Operations Warrior Foundation visit them at: www.specialops.org
For more information about the Stephen House SWAT Life Scholarship visit:  www.swatlifebrothers.com
Learn more about Tom Weber and his film and photography at:
www.Milpictures.com