PRESS RELEASE
SIG SAUER partners with Operation Hat Trick
---
NEWINGTON, N.H. — SIG SAUER, Inc. announces that it has partnered with Operation Hat Trick (OHT) to help raise awareness and support for the recovery of service members and veterans injured during combat. As part of the partnership, SIG SAUER will offer branded OHT headwear and T-shirts through its recently launched e-commerce website, sigsauer.com. A portion of the proceeds from each item sold will be donated back to OHT to support the organization's ongoing mission of providing critical support to the men and women of the United States Armed Forces.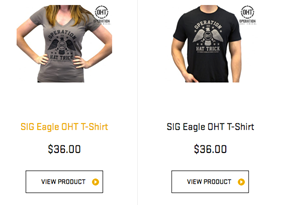 "SIG SAUER is extremely proud to launch a relationship of support with Operation Hat Trick," said Tom Taylor, Chief Marketing Officer and Executive Vice President, Commercial Sales. "SIG has a long history of support for those who serve and for our veterans. We provide support with our products, but just as importantly, we like to work with organizations that benefit these great Americans. Operation Hat Trick is a volunteer organization that has grown from humble beginnings to a wide reaching service organization, and we are proud to be part of that mission."
Followers of the brand can select between three different men and women's T-shirts featuring both the SIG SAUER and OHT logos. In addition, five new hats are also available through the SIG SAUER online store. By purchasing the new apparel, fans are able to contribute to select organizations that help wounded service members and veterans recover from their visible and non-visible combat injuries.
First established in 2008 at the University of New Hampshire (UNH), OHT started as a program that delivered free hats to wounded veterans in VA hospitals. The name Operation Hat Trick comes from the initial focus of hats, with a nod to the university's rich hockey history. The program was started by Dot Sheehan, a senior athletic director at UNH, as a way to honor local veterans. When tragedy shook UNH with the death of two local Navy SEALs, Nate Hardy and Mike Koch, who died while serving in Iraq, Sheehan was inspired by the sacrifices made between the two friends and OHT launched itself into the national scene. OHT shares an exclusive partnership with global sports lifestyle brand,'47, and other select licensees, academic institutions, sport leagues, retailers and corporations.
To learn more about the story behind the cause, visit operationhattrick.com.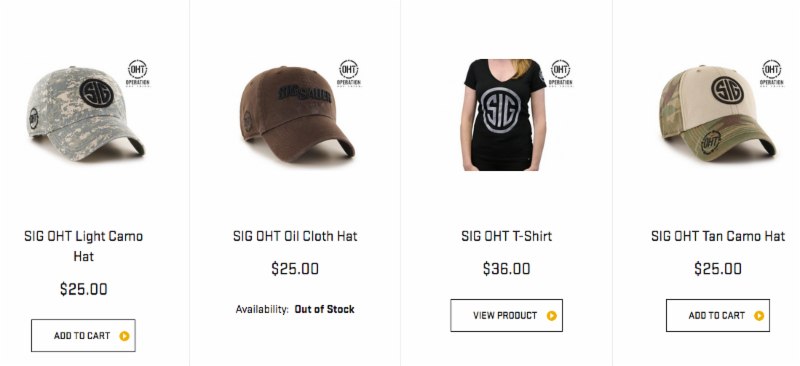 About SIG SAUER, Inc.
SIG SAUER, Inc. is The Complete Systems Provider™, leading the industry in American innovation, ingenuity, and manufacturing. SIG SAUER® brings a dedication to superior quality, ultimate reliability, and unmatched performance that has made it the brand of choice among responsible citizens, and many of the world's most elite military, government, and law enforcement units. SIG SAUER offers a full array of products and services to meet any mission parameter, including handguns, rifles, ammunition, optics, suppressors, ASP (Advanced Sport Pellet) airguns and training. The largest member of a worldwide business group of firearms manufacturers that includes SIG SAUER GmbH & Co. KG in Germany and Swiss Arms AG in Switzerland, SIG SAUER is an ISO 9001: 2008 certified company with more than 1,400 employees. For more information on SIG SAUER, any of its products, or the SIG SAUER AcademySM log on to www.sigsauer.com.

Request more info from SIG SAUER Inc.
Thank You!