PRESS RELEASE
SWAT Life Athletic Affiliation
---
Team Adversity Begins...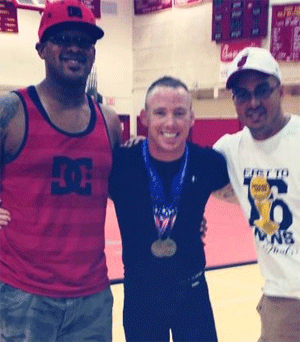 Central Fl. - SWAT Life joins the sponsors and supporters of Bruce Conners. Connors, who won Gold in the Police Olympics competing in Brazilian Jiu Jitsu (Gi and No Gi) balances his work, home life, and training for his next fight inside the ring.

Bruce Connors is a former Marine Scout Sniper and current Law Enforcement Officer and SWAT team member. His six years of Mixed Martial Arts training has given him the talent and versatility to be a force in the cage as well. He holds a Cage Warriors World Featherweight Title. Bruce is currently ranked in the top five Featherweights in Florida.

Training for the Fight in the Ring or on the Job, Bruce trains and Instructs at Full Circle Mixed Martial Arts. Full Circle MMA is the premier MMA Gym in St. Cloud, Florida. They specialize in Muay Thai, Brazilian Jiujitsu and Submission Grappling. Bruce and his fellow instructors have real world Cage experience. Their decades of combined experience allow them to deliver training that help members meet their fitness goals be they Recreational, Amateur or Professional.

As SWAT Life grows we hope to increase our support for Bruce Conners after 2013 and add more athletes.

You can learn more about Bruce Connors and Full Circle MMA at www.fullcirclemma.org.
Statements
"Bruce served his country in the Marine Corp and continues to serve in his role as a police officer and SWAT Team member. He demonstrates through the course of his life and daily what determination can lead too – this is living the SWAT Life. We are proud to come out in support of Bruce. It's a winning combination." Cleyton Bray, CEO SWAT Life: Brothers for Adversity, LLC.
Coming Soon
Custom Shirts designed specifically for the SWAT Athletes that compete everywhere to support those atheletes! Available soon at www.swatlifebrothers.com.