PRESS RELEASE
SWAT Life Offering Best Selling Shirt for the Best "Door Kickers"
---
Central Florida, SWAT Life is offering the best selling shirt at a reduced rate for all of it's brothers and sisters in arms.  The Major League Door Kicker shirt was done in part with Door Kickers, Inc. and with proceeds going to the Stephen House SWAT Life Scholarship and families and former members of the Special Operations community. 
Use coupon code:  MLDK30 to get up to 30% off all colors and styles of the MLDK shirt, while supplies last.
SWAT Life: Brothers for Adversity is proud to be a leading producer of custom tactical and military themed shirts. Proceeds from all our products get put back into the tactical community.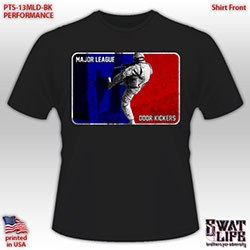 Availability: MLDK30 is available now through the end of September – online only at www.swatlifebrothers.com