PRESS RELEASE
Teams In Need Look To SWAT Life: Brothers for Adversity for Assistance
---
Second award from the Stephen House SWAT Life Scholarship
Central Fl. - Over the past two months SWAT/Tactical Teams from all over the country submitted applications for 10 OFAK Pouches. Individual team members carry these pouches. The pouches, developed by Bushido Tactical in Orlando, were shortly filled with Tourniquet, Chem Lites, and Gauze developed to treat wounds from combat. These items were generously donated by some of the leading companies in the USA – who believe genuinely in the cause. As a result of the response by Tactical Teams a second set of ten OFAKs were donated.

On October 8th the application process closed and the selection process began. A committee that includes family of fallen Team Leader Stephen House, who the Scholarship is named after, does selection.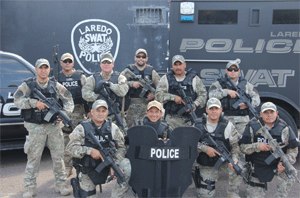 On October 15th the Selection was made and the first Team awarded was Laredo SWAT – Laredo Police Department in Texas.

This Scholarship Award could not have been made without the generous support of "Bushido Tactical, LLC"; "Cyalume Technologies"; "Tactical Medical Solutions, INC"; and "Celox".
Statements:
"The second scholarship award from the Stephen House SWAT Life Scholarship is a humble reminder of the work that Tactical Teams do everyday stepping into harms way. Operator First Aid Kits (OFAKs) are as necessary to a Team member as their firearm in today's policing world. We are again priviledged to further this great cause in Stephen's name and work with these two worthy Teams in Texas and Virginia. The fact that we had so much support from these brother companies tells us were not alone in trying to meet this need." Cleyton Bray, CEO SWAT Life: Brothers for Adversity
Learn More
You can learn more about the Stephen House SWAT Life Scholarship; how you can support it or apply for various awards at www.swatlifebrothers.com.