How to buy riot response gear (eBook)
Download this Police1 riot response gear buying guide to learn key steps for product selection, purchasing and implementation
---
To download your free copy of "How to buy riot response gear (eBook)" Buying Guide from Police1, fill out this form.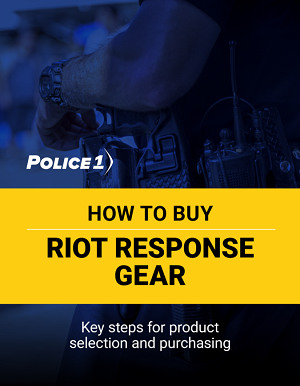 No city wants to experience a riot, but all law enforcement agencies must have a preparedness strategy in place should one transpire.
It doesn't matter what triggers the event, whether it's an officer-involved shooting, presidential election, or the outcome of a sporting event, it is law enforcement's ability to respond and restore that will have the greatest impact
on community and officer safety.
The civil unrest of 2020 saw many law enforcement agencies respond to riots across the United States. These events require special planning, training and equipment. Agencies that did not prepare in advance found officers ill-prepared. Part of preparation is the purchase of necessary equipment.
This Police1 guide addresses the issues to consider in the procurement of riot response equipment.
Included in this guide: 
Key considerations before purchasing riot response gear
Questions to ask riot response gear vendors
To download your free copy of the How to Buy Riot Response Gear guide from Police1 fill out this form.