Taking a tip from the next generation
Tip411+ allows law enforcement to receive anonymous tips, post social media content
---
By Scott M. Bruner
Police1 Product Editor
The face of communication has changed, and with it, the tools that law enforcement can tap into and use. As people use their phone less and less for talking, police have had to come up with innovative new ways to get critical information from one of time's most trusted sources, the word on the street.
Tip411+ allows that word on the street to come via e-mail or text, anonymously, and it allows police to respond with two-way communication to the tipster.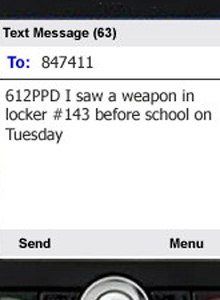 "What Tip411 does is enable the community and students to text or email anonymous tips that can be responded to," Dan Zell, the national program manager for Tip411+ said. "You can respond in a two-way chat."
In order to send information, a tipster sends a text or e-mail to Tip411+ with a specific keyword that routes it to the right agency. Instantly the message is received to a secure website where police can choose to initiate a response.
For the law enforcement user, operation of Tip411+ is simple and straightforward. The system is web-based and can be accessed by any computer with internet access. Through the Tip411+ interface, the user can receive and respond to e-mail and text tips and also send out information along the major social media websites.
Law enforcement can send out a Twitter feed, or send out information on Facebook in just one click through Tip411+. The user only needs to select which sites the information should be posted to, and Tip411+ does the rest, eliminating the need to recreate content continuously. Created content can be sent out to any website that accepts RSS feed.
"One example is the Detroit Police Department which is able to do both from the web interface. They can create content for their drug task force unit saying they're looking for a particular individual and when they publish that info it goes out to an exponential number of sites. Tip411 allows police to use different tools to create awareness to the public about crime or incidents they need help with. The two-way texting enables the public to respond to it," Zell said.
A city or agency can have as many keywords as they choose. In addition to law enforcement, schools have been signing up for Tip411+. In Pittsfield, Mass., there are six different key codes for tipsters to use, one each for every high school in the area. Reaching out to youth is one of the core components of Tip411+.
"The second big benefit [of Tip411+] is that it creates a connection to younger people and gives police access to a whole new group of people with a wealth of information that have no interest in calling law enforcement because they don't do that, but they do text. It offers a comfortably way to reach out anonymously to law enforcement," Zell said.
Tip411 was initially released in January of 2009, although the ability to post content simultaneously to a number of sites as part of the main program was made available in January of 2010. Tip411 is available to law enforcement as part of a flat yearly or multi-year subscription.
For more information, visit http://www.tip411.com.

Request product info from top Police Communications companies
Thank You!