How Camcode helps law enforcement agencies track firearms
Manual tracking of firearms is a time-consuming task for law enforcement agencies. Camcode's firearm tracking program makes the process easy.
---
Sponsored by Camcode
By Victoria Mack for Police1 BrandFocus
Accurate documentation of the firearms at your police department is critical. But departments don't always have the resources to dedicate to firearm tracking.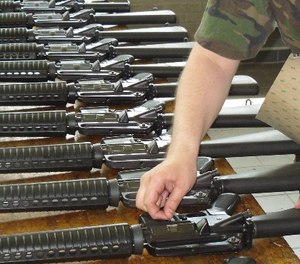 Camcode, a firearm and asset identification and tracking company, can help agencies track firearms using bar code tags and more. Founded in 1979, it is a worldwide leader in automatic identification and data capture (AIDC) technology.
Here's how its firearm tracking service works.
METALPHOTO FIREARM TAGS
To track firearms, Camcode recommends a firearm tag made of Metalphoto® photosensitive anodized aluminum, which is the standard for permanent weapons system identification and meets MIL-STD-130 or STANAG 2290 standards. Camcode also provides firearm laser marking services when applicable.
The tag's sub-surface image is resistant to degradation from environmental and operational abuse such as heat, cleaning, abrasion and UV fade, said Nathan Keserich, Camcode's technical manager. It also is low-profile to fit into recessed cavities of most firearms to reduce the impact on ergonomics.
Because of its ultra-high resolution, Keserich said, Metalphoto can be imaged down to 10x10mm. Camcode also offers a tactical tag that has a non-reflective matte green finish to reduce the possibility of detection during covert operations.
"The tags have many benefits and reduce the potential liability and expense incurred due to lost or unaccounted-for weapons," he said.
DATA CAPTURE
The bar code on the tags can maintain any data structure or symbology the agency chooses, Keserich said. It just depends on what the agency's needs are.
He said often police agencies will include the name of the officer the weapon is issued to as well as the dates of required servicing (such as replacing the spring on a pistol), the serial number, the warranty and more.
"Each firearm is assigned to a specific individual, ensuring accountability and deterring theft and careless usage," Keserich said.
Bar code data can be read by any tracking program or scanner. Using the generated data, agencies can reconcile any discrepancies that might exist in the property book and/or the current data management system.
Having accurate data regarding the location and condition of each firearm reduces potential liability and costs. Inventory reviews can be performed as often as the agency chooses – for example, monthly or daily. The data on the bar codes ensures that agencies maintain total control of their assets.
"Assets are properly managed and tracked through their lifecycle, from procurement to retirement," Keserich said.
ENGINEERING SERVICES
The best part about the firearm asset tracking program is that the company will deploy their engineers on-site to set up the entire program.
Camcode engineers visit an agency's armory, inventory the stockpile, evaluate the agency's policies and make recommendations about what hardware and software are the best fit. This includes assessing your firearm types and specifying (documenting) the optimal shape, size, material, attachment and placement of the tracking mark.
"This ensures mark longevity and uniformity into the future," Keserich said.
Camcode allows agencies to either install bar code tags themselves (DIY) or have the Camcode support team install the tags. For agencies choosing the DIY method, Camcode provides the necessary hardware.
There also is the option of direct setup and installation services. For example, if your agency has too many assets to manage, marking may be an inefficient use of officer time. Once the tag types have been agreed upon, Camcode's setup service provides everything needed.
"Camcode offers a tag installation and setup service where we come to your facilities, tag every firearm, collect relevant data, and deliver a file of all tagged firearms," Keserich said.
Finally, they offer direct consultations and tracking software.
"Camcode will evaluate your tracking needs and recommend the right software/hardware solution," he said.
Camcode's firearm tracking program can efficiently identify and track all firearms in your department's armory. The bar code system decreases the time and effort required for manual tracking, as well as room for human error, allowing your agency to quickly realize a return on its investment.

Request information from Camcode
Thank You!