PRESS RELEASE
Kevin Bresnahan named president of Mission Critical Partners' Lifecycle Management Services business unit
---
Bresnahan succeeds David S. Jones, who is retiring after eight successful years of growth since the formation of the LMS unit
STATE COLLEGE, Pa. — Mission Critical Partners (MCP) announced that Kevin Bresnahan has been promoted to president of the firm's lifecycle management services (LMS) business unit, effective April 1. He succeeds David S. Jones, who joined MCP during the formation of LMS eight years ago. Jones is retiring from MCP at the end of June.
In related news, MCP named Steve Badgio to fill Bresnahan's role as leader of the LMS unit's comanaged information technology (CMIT) organization, which provides a wide range of network/system monitoring-and-assessment, data-integration, application-management, and staff-augmentation services to the firm's public-safety and justice clients.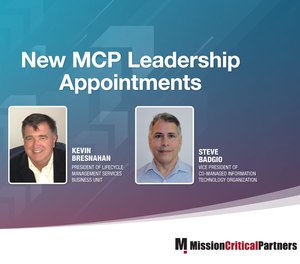 When he arrived at MCP in 2020, Bresnahan brought a quarter century of sales, engineering, technical support, and project management experience to the firm. He served as vice president of managed services for NetCracker Systems, a provider of enterprise-level operation support and business support system software and services. He also served as vice president of development – operations and service delivery for TeleCommunication Systems, where he led a multi-million dollar revamping of the company's 911 call-handling software.
"Kevin has done exemplary work in leading our CMIT organization, and we're anticipating more of the same as he begins this new chapter," said Darrin Reilly, president, and chief executive officer.
During Jones' tenure at MCP, the LMS unit has achieved accelerated growth — in just eight years, the unit's annual revenue is approaching that of the consulting business unit that remains the foundation of the firm's success.
"I have learned much at every step along my career path," Bresnahan said. "So, I am confident that I am ready for this new challenge and look forward to building on the success that David established."
About Mission Critical Partners (MCP)
Mission Critical Partners (MCP) is a leading provider of data integration, consulting, network, and cybersecurity solutions specializing in transforming mission-critical communications networks into integrated ecosystems that improve outcomes in the public safety, justice, healthcare, transportation, and utility markets. Our comprehensive experience and vendor-agnostic approach helps us develop modernized solutions for our clients to maximize value and create optimal efficiency while mitigating risk. Additional information and career opportunities are available at www.MissionCriticalPartners.com.
CONTACT:
Morgan Sava
Mission Critical Partners
608-658-8858

Request more info from Mission Critical Partners
Thank You!