PRESS RELEASE
McGruff the Crime Dog Celebrates His 30th Birthday With a Makeover
---
McGruff Shows Off What's Under His Trademark Trench Coat
Arlington, VA - (Marketwire) McGruff the Crime Dog shows off what is under his trademark trench coat for the first the time in his 30-year career. On July 1, 2010, the National Crime Prevention Council (NCPC), home of McGruff, unveils a new animated short film featuring the Crime Dog with his new animated look and new clothes under the familiar trench coat. This unveiling is part of the celebration of his 30th birthday.
The video represents a new way for McGruff to talk about bullying -- a pervasive issue for young people -- in an entertaining manner as part of NCPC's Circle of Respect initiative. To take the idea of bullying prevention further, NCPC developed the Circle of Respect to stop behaviors like bullying before they get out of hand. The recent cases of young people who have tragically ended their lives because they were so badly bullied, are yet another painful example that this is a real problem in America.
use if there is a picture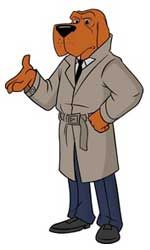 end picture
NCPC has spent several years combating this latest form of prevailing crime in today's teen culture and has developed programs to inspire teens not to bully people online by exposing those teens to the damaging effects of bullying on others. With the help of legendary advertising agency, Saatchi & Saatchi, this new animated video is giving McGruff a chance to reach a whole new generation of kids with these important messages about bullying prevention.
The Circle of Respect aims to help kids learn how to handle conflict by using the concept of respect. In recent research, NCPC found that kids 8 to 17 do not know how to act respectfully and have experienced bullying at one time or another. Moreover, previous research has shown that 160,000 kids miss school every day out of fear of being bullied.
NCPC is distributing the video to young people through its vast network of law enforcement, criminal justice, and community outreach professionals. In addition, NCPC intends to distribute the video to schools this fall. The video is also available to view online at www.circleofrespect.org.
About the National Crime Prevention Council
The National Crime Prevention Council (NCPC) is the nonprofit leader in crime prevention. For 29 years, our safety expert McGruff the Crime Dog® has delivered easy-to-use crime prevention tips that protect what matters most -- you, your family, and your community. Law enforcement agencies nationwide rely on our expertise to make an impact on personal safety and crime every day. For more information on how NCPC can help you "Take a Bite Out of Crime®," visit www.ncpc.org.
Join McGruff the Crime Dog on Facebook: www.facebook.com/McGruff
Follow McGruff the Crime Dog on Twitter: www.twitter.com/mcgruffatncpc