PRESS RELEASE
Pennsylvania emergency management agency selects mission critical partners to support deployment of next generation 911
---
Modern, advanced 911 system will greatly enhance emergency services provided to citizens statewide
State College, PA., — The state of Pennsylvania awarded Mission Critical Partners (MCP) a contract to support the deployment of Next Generation 911 (NG911) service statewide. NG911 service will propel the state into a new age of emergency communications for generations to come. MCP, which provides consulting and managed services to public-sector organizations, will support the deployment by conducting standards reviews and providing subject-matter expertise.
Pennsylvania's 61 PSAPs will migrate from legacy 911 service to NG911 service in a phased approach by 2025. This transition is vital given that wireless devices generated 74 percent of 911 calls in Pennsylvania in 2021. Because NG911 systems are Internet Protocol (IP)-based and broadband-enabled, they also will deliver texts, and in the future, videos, images, and other forms of rich data to public-safety answering points (PSAPs) when calls are made from wireless devices.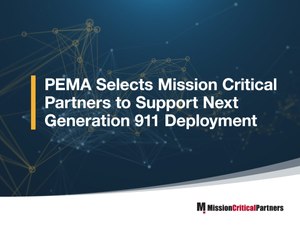 To support the transition, MCP will complete the following tasks:
Provide PEMA with expertise throughout NG911 migration, implementation, and post-migration, statewide
Support PEMA in transitioning existing text-to-911 services to the state's NG911 service contract
Integrate existing regional emergency services IP networks, also known as ESInets, with the statewide ESInet, ensuring a successful integration between statewide and regional entities
Provide NG911 and ancillary services support, including assisting PEMA with the development of requirements for applications to be supported by the statewide ESInet
These include 911 call-handling systems, computer-aided dispatch (CAD) systems, and other public-safety systems
This support also includes maintaining compliance with national cybersecurity standards and best practices
Provide updates regarding how NG911 service will integrate with other elements of the statewide 911 plan
According to Darrin Reilly, MCP president and CEO, PEMA has made tremendous progress in fostering collaboration amongst the state's PSAPs and regions since new 911 legislation was enacted in 2015. Examples include shared call-handling systems and data sharing achieved through regional CAD systems in many areas across Pennsylvania.
"We applaud the legislature and PEMA for taking this quantum leap forward," said Reilly. "This enables significant cost savings, improved situational awareness for emergency responders, and improved emergency response outcomes for all of Pennsylvania's citizens and visitors."
About Mission Critical Partners (MCP)
Mission Critical Partners (MCP) is a leading provider of data integration, consulting, network, and cybersecurity solutions specializing in transforming mission-critical communications networks into integrated ecosystems that improve outcomes in the public safety, justice, healthcare, transportation, and utility markets. Our comprehensive experience and vendor-agnostic approach helps us develop modernized solutions for our clients to maximize value and create optimal efficiency while mitigating risk. Additional information and career opportunities are available at www.MissionCriticalPartners.com

Request more info from Mission Critical Partners
Thank You!