PRESS RELEASE
Rhode Island emergency management agency selects Mission Critical Partners to support its land mobile radio system
---
Firm's subject-matter experts will assess key performance attributes — including coverage, capacity, and reliability— and help develop a strategic plan for upgrading or replacing the system
STATE COLLEGE, Pa. — Mission Critical Partners (MCP) announced today that the Rhode Island Emergency Management Agency (RIEMA) selected the firm to assess its current land mobile radio (LMR) system used by emergency responders, the Rhode Island Statewide Communications Network (RISCON). The state has allocated funding to RIEMA for upgrading and enhancing the system. An important goal is to develop a comprehensive plan to determine the best use of the dollars for the current and future of the system.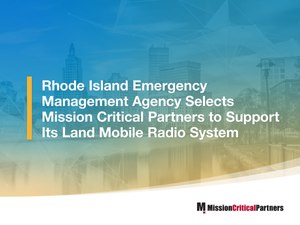 RISCON is a 4-zone, 29-site system that operates in the 800-megahertz (MHz) band. It complies with the Project 25 (P25) standard that governs digital radio systems and is considered state of the art in the public-safety sector. The current system is used by all state and local public-safety agencies and supports about 15,000 subscriber devices. RIEMA provides access to all state and local public-safety agencies at no cost.
"The lifeblood of emergency-response communications always has been the LMR system," said Darrin Reilly, MCP's president and CEO. "We're grateful for the opportunity to help the State of Rhode Island improve the performance and reliability of their system, which will help emergency responders perform their jobs better and keep them safer."
MCP subject-matter experts (SMEs) will conduct onsite assessments of all RISCON components, including all radio frequency hardware and equipment, backhaul components, radio sites, and dispatch locations. They also will assess ancillary subsystems, e.g., paging and fire-station alerting.
All assessments will be conducted using the firm's proprietary Model for Advancing Public Safety® (MAPS®) methodology. MAPS® is based on public-safety standards, best practices, and the collective experience and expertise of the firm's 200-plus SMEs. MCP also will conduct meetings with representatives of RISCON users and stakeholders to collect information regarding current performance and areas where they see potential improvement.
Key performance attributes that will be examined include:
Coverage — Is the system design, the number and placements of tower sites, and the equipment capabilities adequate to support the needs of Rhode Island's public-safety community? (Minimum threshold is 95 percent coverage)
Capacity — Are there adequate channels and channel bandwidth to ensure that field personnel can access RISCON from their mobile and portable devices at any time?
Reliability— What level of the system is available to users? Public‑safety LMR systems typically are designed to deliver an uptime of 99.999 percent per the National Public Safety Telecommunications Council (NPSTC).
The strategic plan also will explore the potential for interconnecting RISCON to other P25-compliant state or regional systems to enhance interoperability. For example, the state of Massachusetts is implementing a new statewide P25-compliant trunked system for the Massachusetts State Police (MSP).
"We are thankful to Governor McKee and the Rhode Island legislature for their continued support of RISCON, and we are committed to providing the maximum benefit to our state and agency partners with the funding," said RIEMA Director Marc Pappas.
"MCP has a long history of helping public-safety agencies get the most out of their communications systems, particularly their two-way radio systems, and we look forward to working with them," said Christopher McGrath, RIEMA Operations Support Branch chief.
About Rhode Island Emergency Management Agency
The mission of the Rhode Island Emergency Management Agency (RIEMA) is to reduce the loss of life and property for the whole community while ensuring that as a state we work together to build, sustain and improve our capability to prepare for, protect against, respond to, recover from and mitigate all natural, human caused and technological hazards. For more information go to riema.ri.gov.
About Mission Critical Partners (MCP)
Mission Critical Partners (MCP) is a leading provider of data integration, consulting, network, and cybersecurity solutions specializing in transforming mission-critical communications networks into integrated ecosystems that improve outcomes in the public safety, justice, healthcare, transportation, and utility markets. Our comprehensive experience and vendor-agnostic approach helps us develop modernized solutions for our clients to maximize value and create optimal efficiency while mitigating risk. Additional information and career opportunities are available at www.MissionCriticalPartners.com

Request more info from Mission Critical Partners
Thank You!