5 ways a rugged smartphone keeps first responders connected and safe
From push-to-talk capabilities to GPS to body-worn camera functionality, the right mobile device helps keep first responders connected anytime, anywhere, for any situation
---
Sponsored by Kyocera
By James Careless for Police1 BrandFocus
The need for communications interoperability for first responders was a key lesson learned from the tragedy of 9/11. Never again should police and other first responders' lives be lost because different agency's radios couldn't talk to each other or communications networks were jammed.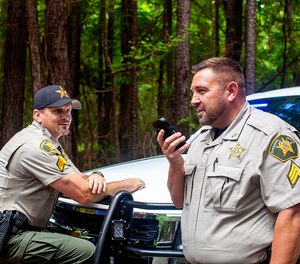 The creation of public safety broadband networks (PSBN) is a legacy of 9/11. These cellular communications networks give first responders priority carriage for voice, data, and audio/video helping to ensure they always get through during critical times.
PSBNs are accessed by select smartphones (plus tablets and laptops) optimized for these networks that can also communicate with all consumer wireless devices making them efficient for both enterprise and personal use, if needed. These PSBN-ready smartphones provide first responders with a full range of public safety features plus the latest smartphone technology at the touch of a button.  
The best of these smartphones designed specifically for first responders are ultra-rugged with one-button Push-to-Talk (PTT), compatibility with existing networks and access to important apps. In the U.S., all PSBN-ready smartphones connect using either AT&T's FirstNet (on Band 14), or Verizon's Public Safety Private Core (using prioritized bandwidth on its commercial network).
Built for public safety
In an effort to provide first responders with a variety of options, both AT&T and Verizon support a wide range of smartphones optimized for public safety networks.
The downside? Many of these PSBN-ready devices are consumer smartphones that are not suitable for first responder duty. Their components, screens and cases were not designed to withstand the pounding and weather extremes this equipment must endure. Even when combined with consumer-grade protective cases, these devices aren't rugged enough to handle the daily rigors of first responders' duties.
Kyocera's rugged DuraForce PRO 2 PSBN-ready smartphone has been specifically designed for first responder duty. Using the Android operating system, these units are available for AT&T and Verizon Wireless, the latter model available with a virtually scratch-proof, tough Sapphire Shield touchscreen display. They can go where consumer smartphones cannot.
Precision engineered and manufactured in Japan by Kyocera – a company that for almost a decade has been in the forefront of engineering devices to withstand the harshest environments – this fifth generation of the rugged Dura series packs user-friendly function and toughness into a slim, lightweight package. In this way, the DuraForce PRO 2 rugged devices offer users the best of both worlds – and service that first responders can count on.
5 ways DuraForce PRO 2 can enhance safety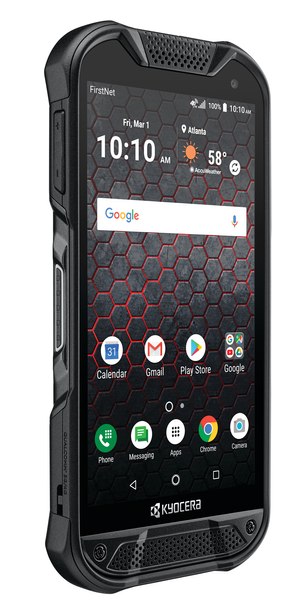 Kyocera's DuraForce PRO 2 smartphone offers many benefits for first responders, no matter how large or small the agency. Beyond ensuring interoperable communications for its users, the DuraForce PRO 2 delivers key features in a rugged package for a reliable performance in the toughest conditions.
Five qualities that can help first responders most:
1. Rugged and Waterproof: DuraForce PRO 2 offers Military Standard 810G protections against dust, drop, shock, vibration, high altitude, humidity, icing and freezing rain and temperature extremes from -4 to 140 degrees Fahrenheit. The rugged smartphone is waterproof to a depth of 6.5 feet for up to 30 minutes.
2. Full PTT and LMR Integration: Just like a conventional two-way radio, the DuraForce PRO 2 offers PTT services for instant one-to-many communications. A large dedicated side button provides easy PTT operations, loud dual front speakers work well in noisy environments, and a powerful battery is ideal for long days in the field. PTT accessories like headsets and remote speaker microphones can be easily added.
The DuraForce PRO 2 can be integrated into existing Land Mobile Radio (LMR) networks using gateway connection products. Since this smartphone is native to cellular and Wi-Fi networks, integrating the DuraForce PRO 2 with LMR expands a department's PTT coverage.
3. Exceptional camera options: Today's first responders need high-resolution photos/videos for data-sharing and real-time videoconferencing. The DuraForce PRO 2 comes equipped with a 13-megapixel HDR-capable camera, 5-megapixel front-facing camera, and a unique 4K Super Wide-View HD Action camera for capturing a wider, more informative view of the incident scene.
4. Makes officers trackable: It is vital for command staff to know where their officers are at all times. The DuraForce PRO 2 can do this while serving as a body-worn camera with real-time GPS tracking data. When combined with third-party solutions, DuraForce PRO 2 can send this GPS data directly to the command center to keep track of first responders and help ensure their safety.
5. Safe and secure: The DuraForce PRO 2 comes with secure device encryption to protect against tampering. This includes a fingerprint security sensor on the phone's power button for biometric authentication, reducing users' reliance on vulnerable passwords.
DuraForce PRO 2 helps Alabama First Responders Cut Costs, Stay Connected
In the past, the Walker County, Alabama, Sheriffs Department (WCSD) and Regional Paramedical Services (RPS) (serving nine Alabama counties) relied on iDEN Push-to-Talk (PTT) handsets provisioned by Southern Linc for primary first responder communications. But when the iDEN standard was phased out, both agencies had to find new ways to communicate. This presented an opportunity to explore their options.
"It would have cost us $150,000-$200,000 to replace our obsolete iDEN system with P25 radios," said Andrew Fike, IT manager for WCSD/RPS and point person for their communications needs. So Fike chose to go in a different direction.
After testing and ruling out another manufacturer's rugged PTT smartphones, Fike asked AT&T's FirstNet division for advice on a replacement smartphone that would be more reliable. The carrier sent an AT&T team with Kyocera DuraForce PRO 2 handsets to Walker County for a three-week field trial. Fike worked with Kyocera during the DuraForce PRO 2 field trial and was impressed by how these rugged PTT smartphones performed on the FirstNet network.
"It was a night-and-day difference between the Kyocera handsets and the ones we had used from another manufacturer," Fike said. "The DuraForce PRO 2s had full reception in rural areas where the other handsets couldn't even get a signal. Kyocera's devices would also stay connected to the nearest hotspot – the other phones would not – ensuring quick, reliable connectivity using their large PTT buttons."
Walker County's trial users were also impressed by the DuraForce PRO 2's high-resolution cameras, ideal for use by crime scene investigators, as well as its wireless recharging and 24-hour battery life: "That's enough to last a full shift," said Fike, "and wireless charging means you can just grab it and go without having to plug it in."
These features – along with incentives that made the FirstNet-enabled DuraForce PRO 2 a cost-effective solution as well – convinced both agencies to choose the Kyocera devices permanently.
Watch the video about Walker County's experience with the DuraForce PRO 2.
Smartphones become crucial safety equipment
As public safety broadband networks expand and more agencies sign on, PSBN-ready, rugged smartphones compatible with AT&T and Verizon Wireless will become a necessity for first responder communications. By combining the power of broadband wireless communications with reliable prioritized service, first responders will always be able to get their vital communications through for a coordinated disaster or incident response.
A full range of accessories like remote speaker mics, PTT headsets, and multi-bay chargers can also be added to extend functionality and ease of use. The VIBES Modular Accessory System is a unique system of interchangeable accessories for DuraForce PRO 2, featuring a multipurpose case that easily snaps to the back of the device. Accessories can be added and removed from a spring-loaded button requiring no additional mounting hardware or tools, and include extended battery packs, a Bluetooth conference speaker, an RF scanner and a Spike Smart Laser Measuring Tool.
With a two-year manufacturer's warranty (including battery performance coverage), the Kyocera DuraForce PRO 2 is a tested, cost-efficient solution worthy of consideration by any agency looking for a PSBN-ready, rugged device reliable enough to do the job first responders need it to.
About the author
James Careless is a freelance writer with extensive experience covering law enforcement topics.  

Request information from Kyocera International, Inc.
Thank You!