How one Michigan dispatch center integrated its 911 technology for better location accuracy from mobile callers
The integration of RapidSOS into Tyler Technologies' New World Enterprise CAD brought new capabilities to the forefront
---
Sponsored by Tyler Technologies
By Laura Neitzel, Police1 BrandFocus staff
Macomb County, Michigan sits to the west of Lake St. Clair, a 400-square mile lake between the Detroit metropolitan area and its Canadian neighbors on the opposite shore. The lake is a popular destination for boating and fishing as well as winter sports, which means it also sees its fair share of emergencies.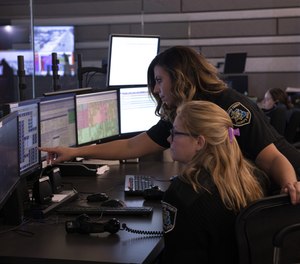 A couple of years ago, a man riding on a four-wheeler on frozen Lake St. Clair became lost in the thick fog. His four-wheeler fell through the thawing ice, leaving him stranded on foot somewhere on the lake's surface, with no idea of where he was or where to go.
When he called 911, dispatchers sent deputies from the Macomb County Sheriff's Office to start the search. With visibility severely reduced by the weather conditions, emergency responders had to stage their vehicles at the lake's edge, flashing their lights and blaring their sirens, hoping the light and noise would guide the man to solid ground.
"Our dispatchers had very limited resources to attempt to locate him," said Angela Elsey, communications administrator for the 911 center. "Because there are no cell phone towers in the water, we had to do our best to triangulate where we thought that person would be based on what tower the signal was hitting off of. We did our best to give the deputies the estimated location where we thought he was."
The stranded rider was fortunately rescued after a few hours – but emergency responders don't always have that kind of time.
Time for a change
It has become an expectation with much of the public that the 911 dispatcher can find and track the caller's location as easily as a pizza delivery driver can. But surprisingly this is not the case for many 911 centers with analog technology.
"The 911 industry is constantly challenged with accurately finding a caller's location," said Elsey. "In today's world of emerging technology, it's been a constant frustration that wireless signals still cannot deliver device location or enhanced location beyond tower triangulation to 911 dispatch centers."
Elsey and her team have worked to make sure this frustration comes to an end. As MCSO and other 911 centers are upgrading their technology to comply with Next Generation 911, their ability to pinpoint a caller's location with greater accuracy will help ensure a faster response.
Building a bridge between 911 and connected devices
RapidSOS helps to bridge that gap between the analog emergency center and a caller's connected device.
"RapidSOS gives the dispatcher center the location of the device, rather than an estimation of the location based on a cell tower signal," said Elsey.
When Elsey and her colleagues saw RapidSOS at a technology conference, they immediately saw the value of a solution that would let them receive location information when the caller dials 911 from their digital device. Already a user of Tyler Technologies' New World Enterprise CAD, the Macomb County Sheriff's Office Dispatch Center implemented RapidSOS in December 2018.
"This was the most exciting change to our industry any of us have seen, but it was yet another stand-alone solution that required additional credentials and it was user specific," said Elsey.
The extra step involved, while seemingly minor, is still a drag on efficiency. "Sometimes, the dispatcher is in the heat of the moment and that caller is in distress and throwing information at you. The dispatcher doesn't have that extra second to open up another piece of software and search something else."
When Elsey's team approached the development team from Tyler Technologies to discuss a possible integration of RapidSOS into their New World CAD, she was pleased to hear that Tyler was already on the case.
MCSO has been using Tyler's computer-aided dispatch solution for several years and knew that by implementing this integration, they would dramatically increase use of RapidSOS locations.
Using all means necessary to locate a person in need
With the integrated system, the dispatcher can instantly recognize if it's a RapidSOS call coming in from a mobile device or a call coming from a landline. With RapidSOS, even if the caller doesn't know their location, the location can be determined by the device location. The caller's location is mapped to the device's latitude and longitude, and using "reverse geo-fencing," New World Enterprise CAD automatically converts the lat-long into the nearest address within three meters of accuracy.
The map in the CAD system also displays "breadcrumbs" so that if a caller is walking or in a moving vehicle, it can track their movements. If the caller is driving behind a suspected intoxicated driver, for instance, the location information is displayed on a shared map so the call taker, the dispatcher and the deputy responding to the call can all see the same information in real time.
It's already making a difference
"It was easy to train our people because they were already familiar with the RapidSOS portal," said Liz Bagos, who went through training with Tyler and then trained the entire staff. "Everyone was really excited about it because it was peace of mind. You know that even if there is a language barrier, you almost always know exactly where that person is at."
The ability to know exactly which floor of a multi-story building someone is calling from or how many nautical miles a stranded boater is from shore is incredibly important for rescue efforts, says Elsey.
When a boater on Lake St. Clair needed CPR, responders were dispatched to the patient's coordinates on the lake and were able to render aid. "Without that location data available to us, it could have taken a significant amount of time to find a "dispatchable" location for the patient," said Elsey.
"I think it's important for the community and the citizens in Macomb County that we serve to understand that we strive to provide the best service to our citizens as possible," said Elsey. "So, we will always take advantage of the lifesaving resources out there and the most current and recent technology that can help us help them."
Chances are much better now that if another person with a cell phone has an emergency on massive Lake St. Clair, Macomb County Sheriff's deputies will be more likely to find them quickly.
Get more information from Tyler Technologies.
Read next: How changes in technology are evolving the role of the emergency dispatcher

Request information from Tyler Technologies
Thank You!