How Sacramento crisis negotiators ditched their clunky 'throw' phones, and why you should, too
This crisis negotiation app replaces traditional and expensive communications tools from the past
---
Sponsored by LETS Corp.
By Yoona Ha, Police1 BrandFocus Staff
Few know how critical one slip-up can be when you're on a call with a suspect that's threatening violence like Justin Thompson, a crisis negotiator for the Sacramento Police Department. Whether it's a hostage situation or an individual attempting suicide, professionals like Thompson know that building rapport and trust is critical to de-escalating a volatile suspect into surrendering. But establishing that connection isn't always as straightforward as picking up the phone and dialing the suspect's number.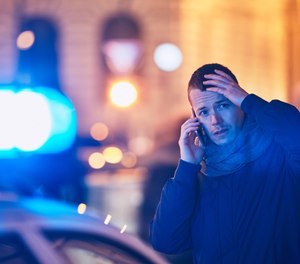 Thompson said that his agency used to use throw phones, which as the name suggests, is a sturdy phone in a briefcase that law enforcement officers "throw in" through windows or a large open area to start the negotiations process. When it was time for Sacramento PD to look for a new crisis communications system, Thompson said the inspiration came from an FBI-related class he took with his local sheriff's department. The Sacramento County Sheriff's Office was using an app that could be installed on any smartphone and removed the need for a traditional throw phone.
"I'm a big proponent of keeping things simple," said Thompson, who has worked in law enforcement for over 13 years. "With our older system there was a lot of plugging in you had to do and step-by-step instructions that you had to follow, whereas now by using the LETS app, it's almost as simple as turning on a phone and opening up an app like you do every day on a regular phone."
A welcome change for law enforcement
Thompson said this was a welcome change for law enforcement, especially among those who were used to handling 200-foot wires and setting up video phones. But when you're dealing with an uncooperative and sometimes even hostile target, not only do you need to deploy the equipment quickly, you also have to account for possible mishaps like the suspect shooting or breaking the phone that was given to them. These broken throw phones can be a headache, especially when replacing one can cost hundreds if not thousands of dollars.
Nate Grgich, a crisis negotiator and detective with the Sacramento County Sheriff's Department, said that the Dallas bomb robot incident in 2016 has some suspects mistaking a throw phone for an explosive.
"Nowadays we see suspects wanting to prefer to text rather be on the phone with someone, so we've had to change our approach," said Grgich, who has worked in law enforcement for over 18 years. "Some suspects don't want you to hear their voice and their vocal inflections that can give away how they really feel."
One example Grgich recalls involved a suspect who only wanted to negotiate over text messages while he was in a standoff with police for stabbing multiple people inside a residence. That suspect ended up surrendering in several hours.
The LETS hostage and crisis response app has all the capabilities that a negotiator would want, including the ability to do seamless call hand-offs, the ability to allow others (including command staff) to listen in, the ability to covertly capture video and audio and notifications that can allow others to take over the call from any location.
For example, with the LETS response app, an officer can start a negotiation with a barricaded suspect using the app and notify the team leader when the negotiations have started. The team leader can then listen in on the negotiation from anywhere in the world and take over when needed. This is helpful when a leader is on the way and wants to be briefed on an unfolding situation before making contact with the suspect.
From face-to-face negotiations to FaceTime negotiations
Just as technology transformed the way we communicate, it has also transformed crisis negotiations. No longer are face-to-face or over the phone the only option to reach a deal. According to Grgich, negotiators are increasingly having to cater to suspects that want to use texting, FaceTime or even Facebook Live.
When more mobility helps keep the conversation going
For the Sacramento PD, a lot of the negotiations happen inside of a vehicle. The setup process has been pared down significantly, to the officers' delight, and the LETS app came with the unexpected benefit of increased interdepartmental communications.
"We're able to be very flexible in situations and move equipment around better than we used to," said Thompson. "We had one hostage scenario that overlapped with the Sacramento County Sheriff's Department, and we were able to partner with them using the same platform. The hand-off came without any issues."
 And it doesn't just have to be a specialty tool used by a crisis negotiations team, says Thompson.
"It can start on a patrol level where units need to document conversations," he said. "LETS has seriously increased our communication, not only with the command staff but also with our SWAT team."
Now, he says, the department coordinates with different teams more than ever because monitoring a call and handing it off is easier than ever. For example: In October 2019, an incident called for a 24-hour negotiation period that involved multiple agencies.
"The suspect didn't want to talk unless we were using his own phone, and because we were able to negotiate using his phone, he felt more comfortable," said Grgich. "We were able to talk him down seamlessly and get the negotiations done a lot faster and cleaner – we didn't have to break any windows to save those lives, and ultimately got him to surrender."
Agencies can get creative about how they use the app to their benefit, from bringing multiple teams up to speed to discreetly recording audio and video during a high-stakes call. And when there is a problem with the platform, getting fast and reliable support isn't an issue.
"In fact, we regularly check in with the folks at LETS to give them our feedback on suggestions for improvements – we just had one recently, so I couldn't tell you what other updates I think they should make that they haven't heard of," said Grgich.

Request information from LETS©
Thank You!