How today's mobile technology improves safety and efficiency in the field
The right mobile apps and accessories can take the rugged smartphone to the next level
---
Content provided by Kyocera
Public safety personnel deal with a wide range of activities, challenges and dangers on any given day.
Mobile technology is reaching a tipping point of cost efficiency and ease of use, making the latest tech tools indispensable to forces in the field. But, it's about more than just a smartphone.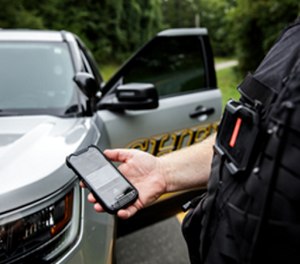 To take full advantage of what the tech industry can offer first responders, the "total solution" needs to be reviewed to find the best fit: a combination of a rugged device with the right features, mobile applications, the right accessories and first-class service support to aid in deployment and throughout the product lifecycle.
Rugged mobile device
Choosing the right smartphone in the field significantly impacts overall efficiency. Smartphones have become crucial tools and a rugged mobile device is essential to sustain working conditions for most public safety workers.
Kyocera, a longtime leader in rugged devices, offers the DuraForce PRO 2 smartphone and DuraXV Extreme flip phone to meet a wide range of needs in the field. Both devices are ultra-rugged: certified IP68 dust and waterproof, Military Standard 810G protection and Class I, Division 2 hazardous location protection to withstand the harshest environments. And, because they are waterproof, they can easily be cleaned and disinfected.
Deciding if a full smartphone or the more compact flip phone is the best fit depends on the most desirable features.
DuraForce PRO 2 has Glove and Wet Touchscreen operation and DuraXV Extreme features large, easy-to-use buttons so personnel can stay productive and use the devices while wearing gloves or with wet hands.
Both have multiple programmable buttons and were designed with easy Push-to-Talk (PTT) capability with a large, dedicated key, loud dual-front speakers, and built-in noise cancellation, communication is easy and clear in even the noisiest environments.
The smartphone also has secure, biometric authentication with a fingerprint security sensor on the power button and enhanced camera features – 13MP rear camera with a 4K action camera and a super wide angle 135-degree view to support a body-worn camera solution. The DuraForce PRO 2 includes a powerful, built-in 3240 mAh battery, while the DuraXV Extreme has a removable 1770 mAh battery to power easily through a shift.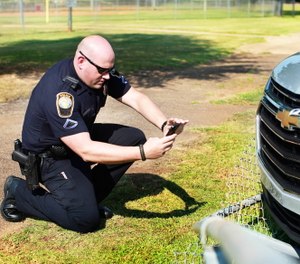 Today's mobile applications and accessories help public safety
The right mobile app and accessory takes the rugged smartphone to the next level.
More than the "old" PTT walkie talkie functionality of first-generation smartphones, today's PTT applications allow officers to communicate instantly one-to-one or one-to-many with the push of a button. They can also connect to legacy systems, ensuring all technology doesn't have to be upgraded at once (additional charges may apply). One-Touch Action allows anyone in the field to track and share their location, share alerts, videos and documents within the app – saving precious time. New audio technology ensures crystal clear calls; both wired and Bluetooth headsets, as well as remote speaker microphones feature inline PTT buttons. DuraForce PRO 2 will support MCPTT offering low latency, faster call setup times, enhanced service prioritized by the network, priority support for emergency group calls and much more. 
Partner applications can also make the mobile device an indispensable tool in the field.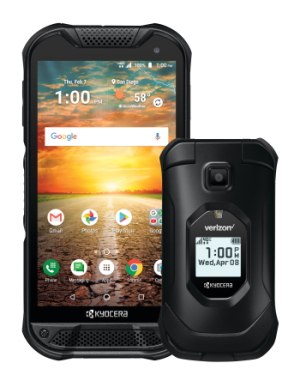 Kyocera's rugged smartphones are used by police forces across the country as highly reliable and cost-effective body-worn cameras. When combined with Visual Labs' application, the device enables live video streaming and automatic upload from the field, unlimited data storage and real-time "situational" awareness of personnel at all times.
Different body-worn mounting accessories are available depending on the specific needs of your agency. Efficiency apps like SmartCop and SceneDoc easily capture incident data from the field using preconfigured forms with built-in voice to text capability. GoCanvas is a convenient application for building custom forms such as expense reports, timecards and scheduling docs to help manage the administrative and operational side of a department.
Accessories such as VIBES Modular extended battery packs (5800mAh) for the DuraForce PRO 2 will work through days of operation. The OmniResponse application helps provide safer working environments with state-of-the-art personnel tracking solutions, man-down detection including physical orientation, gunshot detection and SOS alerts. The gunshot detection system uses acoustics to detect internal and external sound and provides immediate notification of location, number of shots and rate of fire.
A number of situational awareness solutions like Mutualink, Intrepid Networks and Blueforce Development enable real-time multimedia and mapping information to one or many, decrease response times, minimize radio traffic during emergencies, provide interoperability among disparate teams and organizations, and essentially serve as mobile command centers.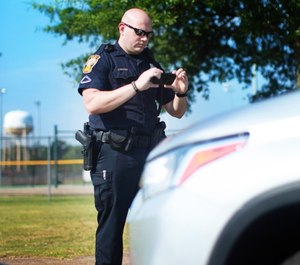 Security and white glove support
Security with technology solutions has never been more important.
Select a certified Android Enterprise Recommended device, like DuraForce PRO 2, which provides periodic security updates along with secure device encryption, utilizing FIPS 140-2 validated cryptographic module and full device encryption that supports secure data-at-rest and data-in-motion. The device's fingerprint security sensor on the power button provides additional security when needed.
As technology becomes integral to doing our jobs, downtime is not an option. A law enforcement's IT department can easily utilize zero-touch on Kyocera smartphones for bulk deployment and management of a fleet of devices, as well as utilizing a favorite MDM partner and OEMConfig offer extended capabilities beyond standard Android Enterprise restrictions.
Consider customer service guarantees when selecting new technology. Kyocera Business Select provides a first responder priority toll-free number, engineering tech support with a one business day response time, and advanced replacement, set up and repairs with expedited service and discounted fees for first responders. Reviewing warranty fine print is also important to determine the overall cost of ownership. Kyocera's standard two-year warranty covers water damage because the devices are waterproof. Many "water resistant" devices' warranties don't cover water damage.
A total solution
Smartphones have transformed our personal lives and, with the right apps and accessories, they're improving first responders' field efficiencies as well.
For more information about Kyocera's Rugged Total Solution, DuraForce PRO 2 available through AT&T and DuraForce PRO 2 with Sapphire Shield and DuraXV Extreme available through Verizon, please call the dedicated first responder phone number: 866-601-6318 or email BusinessSelectsupport@Kyocera.com.

Request information from Kyocera International, Inc.
Thank You!