NTOA: How to maximize the capabilities of SWAT drones
Drones can provide invaluable intelligence and tactical assistance to SWAT teams before they enter structures
---
Experienced SWAT operator Mark Lang presented on the use of drones during SWAT operations before structure entry at the National Tactical Officers Association (NTOA) conference in September in Milwaukee.
He discussed the capabilities and timing of the use of interior tactical drones in a comprehensive and engaging session. He covered the introduction of drones to enhance the effectiveness of crisis negotiations, use of drones for intelligence gathering and how drones can enhance officer safety.
Drones are a cost-effective tool for SWAT operations because they can quickly gather intelligence and clear rooms.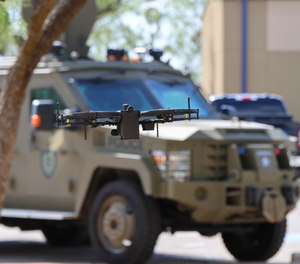 "If we're there less time, we can save several thousand dollars per call by using the drone," said Lang, a trainer for Las Vegas-based BRINC, which makes drones for first responders, and retired member of the Dallas Police Department's SWAT team.
Cost analysis, including the hourly cost of all personnel, can justify the procurement of a drone for SWAT because it lowers incident time for the team. "Drone use continues to speed up callouts because the technology continues to advance," Lang said. "The technology is advancing faster than you can imagine."
'All drones are not created equal'
Lang delivered an information-packed presentation on the SWAT use of drones for interior room clearing and intelligence gathering. Here are some memorable quotes from Lang's presentation:
"Introduce drones early into the tactical problem."
"All drones are not created equal. Not one drone serves every application you have in law enforcement. Drones are specific to what they do."
"No drone is exempt from mission failure. I recommend having two drones. Two is one, and one is none."
"Flying drones (like shooting) is a perishable skill. If you haven't flown recently, the chance of mission success is lower."
"[For] interior clearing, typically, most structures should be able to clear with 1-2 batteries. Training should incorporate battery management."
"Drone use is cost-effective and reduces overall SWAT operation costs. A drone can clear the area quicker than other techniques."
"Use the drone (noise) inside the structure to mask the noise of other tactics."
Consider a drone-first approach
Lang gave attendees a lot to consider about the application of drones in interior SWAT operations. Here are the key takeaways from his presentation.
1. Use drones before manned entry
Consider using a drone-first approach for barricaded suspects, barricaded suspects with hostages and warrant services. Legal entry by drone is because of exigent circumstances, consent or a signed warrant. The drone, according to Lang, can help "contain, isolate and communicate."
"Own the inside with tech[nology] until we need to go inside with lives," Lang said. 
2. Understand drone capabilities
There are two types of drones. Exterior drones are often larger and not well-suited to flying inside structures. A tactical drone is suited to indoor use if it has these features:
Audio/video recording capability
Two-way communications
Integrated prop guards
Anti-pancake technology (prevents the propellors from sucking the drone into the wall)
Ability to bounce off objects/walls
Self-righting from pilot error or suspect actions
Perching mode
Perching allows the pilot to land the drone and let it act as an audio/video source in a fixed location.
Because drones have limited battery life, Lang explained how to use a terrestrial robot to deliver an interior drone to the insertion point. A terrestrial robot can also open closed doors so the drone can fly into the structure.
3. Avoid common drone mistakes
Lang outlined a set of common mistakes made by SWAT drone operators. Those include:
Flying too high in a room and hitting obstructions like light fixtures and ceiling fan cords
Flying too close to walls without prop guards
Dirty air from the drone's prop wash affecting flight
Pancaking
Sucking up loose debris like plastic grocery bags
In addition, drone operators need to know flying restrictions in their jurisdictions, which include FAA-controlled airspace, locked airspace and GPS-denied environments. Lang discussed regulations, apps and authorizations drone operators need to be aware of and include in their preplanning to access restricted airspace.
4. Who will fly your drone?
Each department needs to decide if its drone will be flown by a member of the SWAT team, another agency officer, or a mutual aid partner. Some departments have cross-trained and assigned non-SWAT personnel to UAS teams. A drone squad pilot might have more opportunities to train, experience with multiple flight platforms and interoperability with multiple agencies that a member of the SWAT team might not have.
Make sure the drone squad regularly trains with SWAT teams to understand one another's capabilities and needs. Preplan for getting the drone team from the command post to the inner perimeter and keeping the pilot secure.
If the drone operator is a SWAT team member, they might have a faster response time. The pilot inside a team is also part of the planning and tactical progression and knows what to look for after flying into the structure. A SWAT operator pilot is more likely to clear a room with the drone in the same manner as a SWAT operator would if they were making entry. A SWAT operator has limited training time and other skills in which to maintain competency and is pulled from other specialties.
5. Top issues are signal penetration, battery life
Lang reported the two biggest issues for drone use in SWAT are signal penetration and battery life. Signal penetration – how far the drone can fly inside a structure – depends on what's between the pilot/controller and the drone. There are multiple variables, including building construction and Wi-Fi signals, that impact drone signal penetration.
Battery life depends on the capabilities of the drone. In addition to powering the propellers, the drone's battery powers audio and video reception and transmission. High-definition video capture requires more power. Lang encouraged attendees to learn the capabilities of their drone batteries, which might be less than the manufacturer-stated capabilities. Knowing the battery capabilities will help drone pilots anticipate loss of flight control characteristics. Finally, drone pilots need to develop processes for recharging during operations.
6. Drones are a distraction and de-escalation device
A single drone or multiple drones can break the suspect's OODA - observe, orient, decide, act - loop, Lang explained. A drone is a new thing for the suspect to orient to and may lead to different decisions and actions.
The presence of the drone, with its sounds and lights, might make a suspect reconsider their situation. "The drone may elicit the suspect to surrender," Lang said. The team needs to be aware and ready for a reaction when the drone enters the structure.
Drones are noisy. Lang showed a video of a drone in flight that was generating more than 90 dB of sustained noise, which is equivalent to the noise generated by a leaf blower. That noise can distract the suspect and mask other movements and sounds.
Drones can be used to isolate suspects through search. Once a suspect is located, the drone can perch and provide constant containment information to the team. Finally, some drones can establish two-way communication between the suspect and negotiators. All these can contribute to de-escalation without teams having to make entry. According to crisis negotiator data shared by Lang, two-way communication with a barricaded suspect is known to significantly reduce the risk of injury to officers, bystanders, hostages and suspects.
How does a drone advance your tactical plan?
Lang concluded his presentation with a discussion of drone use during entry operations. The use of the drone here is only limited by the operator's imagination of its usefulness and training for interior search, suspect distraction and video streaming back to the command post.
"Does the tactical plan benefit from continued drone use?" Lang asked. Use the answers to that question to determine how the drone will be used before and during entry.
Find more key sessions from the NTOA 2022 Conference and Trade Show on the organization's Facebook page.
Learn more

Request product info from top Crisis & Hostage Negotiations companies
Thank You!