Boost your communication confidence with these speaker microphone innovations
From patrol to plainclothes, these devices offer all the features you need
---
Sponsored by Earphone Connection
By Courtney Levin, Police1 BrandFocus Staff
When it comes to communication technology, officers can be easily overwhelmed by the plethora of options on the market. After all, when officer safety is on the line, it's critical that every transmission is clearly sent and received.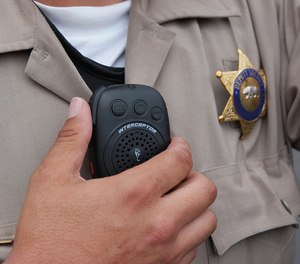 Those looking for easy-to-use equipment that provides peace of mind during every shift are increasingly turning to speaker microphones. These devices come with a number of features and can be configured with various accessories to create a communication system that's customized for an officer's unique patrol needs.
But what if you need to communicate using your smartphone or in-car radio as well as your speaker microphone and don't want the hassle of dealing with feedback from competing devices? The Interceptor speaker microphone by Earphone Connection has solved this problem thanks to its new voice commands feature.
"We had an extra button on the microphone and wrote firmware into it so when you press it, it mutes the speaker," explained Ruben Scheimberg, owner of Earphone Connection. "Now that speaker microphone is not challenged by the in-car mobile unit.
"But we took it a step further and added voice commands to ensure the mute actually happened. When you press the button, the microphone will say 'mute' and when you depress it says 'unmute.' We continued writing more voice commands that will assure the user that these functions are happening without having to look at the device."
Watch the new voice commands demonstrated here:
LONG-STANDING FEATURES MAKE USE EASY
While the voice commands for the Interceptor speaker microphone help make the device easy to use, the design of the microphone itself provides a wealth of additional benefits.
It's configured for push-to-talk use, allowing officers to connect both their two-way radio and smartphone to the device for seamless communication. It also pairs with Bluetooth devices and offers up to 20 hours of talk time, ensuring you won't run out of battery life mid-shift.
The Interceptor also promotes safety with the placement of its microphone element. While many other products house the element on the front of the device, the Interceptor's sits on top. This allows officers to speak into the microphone without having to tilt their heads down and lose situational awareness.
For patrol or tactical operations, the Interceptor is a versatile option. Officers can attach the rotating body clip to their shirt and enjoy the device's lightweight feel or can pair it with an earpiece for situations that require discretion.
MAKING IMPROVEMENTS THROUGH USER FEEDBACK
The impetus for making these recent changes is largely attributed to the feedback officers provide to Earphone Connection. Whether exploring options at a trade show or using the products while on shift, officers have been instrumental in the improvement of many of the company's microphones and accessories.
One such product that went through several rounds of modifications was the Fin Ultra ear tips, which can be used with the Interceptor and other Earphone Connection products. In years past, most officers using an earpiece would be limited to options that were hard and uncomfortable to wear for long periods. Earphone Connection saw the opportunity to develop a new type of earpiece and refined its design through user feedback.
"We designed our own with a softer silicone that will not go into the ear canal as far as a traditional earpiece," said Scheimberg. "It brought a new user experience where the feedback is instant. Every time we go to a trade show and pop them in someone's ear, their first reaction is, 'Is it in my ear?' That's what we want to hear – if you can't feel it that means we're doing something right."
The Fin Ultra ear tips went through several rounds of design changes as feedback from officers came in. Initially, while many appreciated how soft and comfortable the earpiece was, officers frequently commented that there wasn't enough ambient sound.
"We went back and sculpted the mold down – there must have been at least six iterations," described Scheimberg. "With that being said, we've never raised the price. All the R&D costs us a lot of money and with one little change you have to change the whole tool of that product."
Along with the Fin Ultra ear tips, Earphone Connection manufactures a range of other accessories that can be easily switched out based on an officer's needs. Initially dubbed their "quick-release system," this product too has been enhanced thanks to user comments.
"The quick-release system evolved into Easy-Connect," said Scheimberg. "Even though users loved the quick release because it made it so you could switch accessories easier and you didn't have to take the adapter off the radio, they still would fumble around with it. The pins would break sometimes, so officers would be going through adapters much more quickly. We added arrows that help for quick alignment and save officers time and reduce the number of replacements they need. Just adding the arrows alone reduced our rate of returns by 70% to 80%."
Scheimberg and the team at Earphone Connection pride themselves not only on offering the highest quality microphones and accessories on the market but on their level of customer service and innovation. They encourage officers to reach out with suggestions for improving the comfort and functionality of any of the company's products.
Visit Earphone Connection for more information.
Read next: These newly updated earpieces deliver clearer sound with less maintenance
Request information from The Ear Phone Connection Inc
Thank You!