Interested in keeping your radio communications private? Here's what you need to hear
Earpieces are the new answer to a decades-long problem
---
Sponsored by Earphone Connection
By Yoona Ha, Police1 BrandFocus Staff
Imagine a scenario in which you're in close contact with a dangerous suspect, but then a familiar voice comes over the radio detailing your next move. Now think about the vulnerability and risk you feel knowing that you, the officer, and the suspect are hearing crucial police communications. Not having private radio communications during a high-stakes operation can not only jeopardize a mission, but it can also put you at major risk.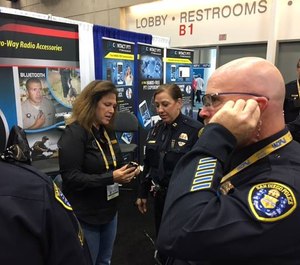 Communicating well has always been a priority among law enforcement, especially since the success or failure of your mission can depend on it. Ask any officer who's been on the job for almost two decades and they'll tell you the same thing: Having the right earpiece can go a long way.
Jeff Wiener, who's been an officer for almost 20 years, once worked with an officer who didn't care much about being discreet in his radio communications – and almost paid the price for it. His colleague had the radio turned all the way up as they stopped an individual who overheard the officers' requests to detain the suspect. That suspect fled the scene, and the trouble of finding and capturing the individual was enough for Wiener to take the moment as a lesson.
"As officers, our challenge is to communicate well in all circumstances, whether you're undercover or in a loud environment," said Wiener, who's worked as an undercover officer and SWAT officer during his tenure at a police department in Nevada. "Being able to take control of the situation safely and effectively without interference is really a big bonus."
Beyond filming the LAPD, a cameraman brings sound quality into focus
Before he started Earphone Connection, Ruben Scheimberg worked as a cameraman on the set of "Cops" and "LAPD: Life on the Beat," TV series depicting the on-duty life of police officers. After spending his career focusing on sight, sound and motion and riding along with officers for this TV series, Scheimberg saw an opportunity.
Why not start a company that focuses on helping law enforcement communicate better? So in 1997, he started Earphone Connection and introduced an earpiece with a hook that fits comfortably on an officer's ear.
Shortly after Scheimberg placed an ad in the local paper, he found that there was a huge demand for comfortable earpieces.
"Officers know that having discreet communication channels give them the upper hand," he said.
The demand for earpieces that don't give officers the dreaded "ear fatigue," or discomfort from wearing them, hasn't stopped in the twenty years-plus that Earphone Connection has been around.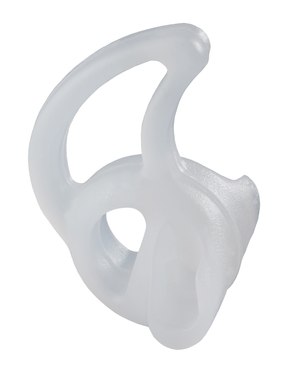 Fast forward to today, the company introduced patented ear tips that fit both the left and the right ear. Unlike other earpieces that fall off easily when an officer is in motion, the Fin Ultra Ambi All Day Comfort Ear Tips fit inside the contours of the ear, which keeps them in place during all kinds of movement and action. Plus, it allows ambient sound to pass through so officers don't have to sacrifice their situational awareness.
Giving undercover officers an edge
As an officer who sometimes serves as an undercover agent, Wiener said his challenge was finding an earpiece that would help him stay undercover.
"When you're undercover, communicating with your team without being uncovered is a huge safety issue," said Wiener. "You don't want to look like a federal agent from a mile away, and Earphone Connection offers earpieces that like look like headphones and a Bluetooth adapter so you can connect with your radio."
Options like the Micro Sound Tubeless Listen Only Earpiece can easily pass for athletic headphones and work well with the silicone ear tips that avoid the discomfort of wearing tactical communications devices in general. Earphone Connection also offers Bluetooth wireless microphones that can pair with most radio models, allowing you to put away your radio from plain sight.
"An increasing number of officers are realizing that earpieces have a place in every officer's standard duty gear. It's just as important as your weapon, body armor, and body camera," Scheimberg said. "Another thing for officers to consider is how having an earpiece can solve the massive feedback and noise that radio sounds can generate in a group setting. You can control the chaos."
Comfort, safety and discretion should be top of mind for every officer looking for better ways to communicate.
Request information from The Ear Phone Connection Inc
Thank You!