These newly updated earpieces deliver clearer sound with less maintenance
Officers can enjoy comfort and convenience no matter their environment
---
Sponsored by Earphone Connection
By Courtney Levin, Police1 BrandFocus Staff
Old habits die hard, especially in law enforcement. Even with consistent improvements in the devices officers use every day, many find it tough to adopt newer versions of older tools. This is especially true when it comes to the earpieces used with speaker microphones.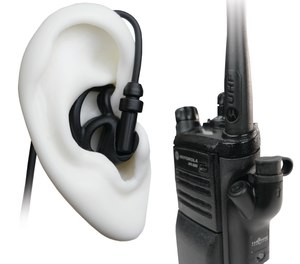 Traditional tube earpieces have been the standard for decades. Because they work well enough, officers often don't consider the drawbacks that come along with using them. Made up of five separate parts, this design uses a coiled tube to connect a speaker to an earpiece. Over time, the tube can begin to cause problems.
The design of a tube earpiece lends itself to sound leakage, leading officers to either turn up their volume too high or resulting in a struggle to communicate clearly and effectively. The tube can also trap moisture, skin oils and other impurities. This can discolor the tube and leads to a brittle and unsanitary device.
Instead of struggling with a tube earpiece, many in law enforcement have found a tubeless model is far easier to use and maintain. Using one thin, uncoiled wire and a speaker that's contained inside the earpiece, there's no opportunity for sound loss.
Tubeless earpieces allow you to turn your volume down without compromising communication clarity and there's no hollow tube that needs to be cleaned or replaced regularly. No matter the temperature or humidity of your environment, a tubeless earpiece will deliver reliable sound and is virtually maintenance-free.
CHOOSING THE RIGHT TUBELESS DEVICE
Using a tubeless earpiece can make an officer's job easier but that doesn't mean these devices are manufactured with a one-size-fits-all mindset. With enhanced features and an improved design, the tubeless earpieces and accessories from Earphone Connection provide officers with the ability to select the right option for their specific environments.
The Micro Sound Tubeless Listen Only Earpiece
All officers can benefit from this versatile tubeless earpiece, from those on patrol or light duty to special operations where discretion is a priority. The Micro Sound Tubeless Listen Only earpiece can be used in conjunction with your favorite speaker microphone and delivers communication directly to your ear.
This sleek and professional tubeless style features a 180-degree swivel speaker that allows you to position it comfortably in the ear tip of your choice without it sitting awkwardly or falling out. Depending on your preference, the ear tip can be changed in a matter of seconds and features Earphone Connection's Secure Ear Tip Lock which keeps the ear tip securely in place in the field.
The Micro Sound Tubeless Listen Only earpiece now has a louder, high-output speaker. It's recommended that officers begin with their radios at a low volume and slowly turn them up to the desired level when wearing the Micro Sound Tubeless Listen Only earpiece. Officers in loud environments can pair this device with a range of ear tips to help block ambient sounds while enjoying crisp and clear communication.
The Hawk M1 Tubeless Lapel Microphone
Designed to pair with Earphone Connection's tubeless earpiece options, the Hawk M1 Tubeless Lapel microphone delivers more discreet communication compared to traditional loudspeaker devices. Every officer can take advantage of this lightweight design with its push-to-talk function no matter what situation they encounter.
This microphone clips to your uniform lapel and offers maximum privacy. When used with a tubeless earpiece, officers will notice this combination is considerably lighter in weight with fewer moving parts to worry about.
The Hawk M1 Tubeless Lapel microphone supports clearer communication due to the position of its microphone element and aids in situational awareness as officers can maintain a more natural posture without having to move their heads down to speak into the device.
The Micro Deuce Dual-Sided Tubeless Listen Only Earpiece
Mirroring the enhancements in the Micro Sound Tubeless Listen Only earpiece, this device gives officers the ability to listen to radio communication in both ears. The Micro Deuce Dual-Sided Tubeless Listen Only earpiece is ideal for loud environments including stadiums, parades, political rallies and protests.
This tubeless earpiece can be used as a listen-only tool or paired with a push-to-talk device. In either instance, the Micro Deuce Dual-Sided Tubeless Listen Only earpiece provides clear sound with minimal distortion no matter how noisy your environment is. Officers using this device can easily change out their ear tips or speaker microphone through its simple release system.
VARIOUS OPTIONS FOR EVERY OFFICER
The functionality of tubeless earpieces is head and shoulders above other products on the market, but the options from Earphone Connection make these devices even more customizable to suit your individual needs.
All of their tubeless earpieces are available in clear with a copper wire or black, so officers can choose what look they prefer most. While a range of ear tips are compatible with Earphone Connection's earpieces, they all come standard with a set of Fin Ultra ear tips. Far more comfortable than molded earbuds that typically accompany tube microphones, the patented Fin Ultra ear tips feature an open-skeleton design that's made from a soft gel material and are only available through Earphone Connection.
The Fin Ultra ear tips are designed to stop before the ear canal rather than entering it fully, so in the event of a sudden loud noise, officers won't need to worry about the potential of damaging their eardrums.
Instead of struggling to hear radio communication and cleaning your acoustic tube more often than you'd probably like, consider switching to a tubeless earpiece and experience clearer and more reliable sound.
Visit Earphone Connection for more information.
Read next: Are you taking advantage of the full potential of push-to-talk technology?
Request information from The Ear Phone Connection Inc
Thank You!