Why the quality of your in-ear technology matters
The most important quality for situational awareness and safety may not be what you think it is
---
Sponsored by N-ear
By Laura Neitzel, Police1 BrandFocus Staff
Audio quality matters, but it matters more in some professions than in others.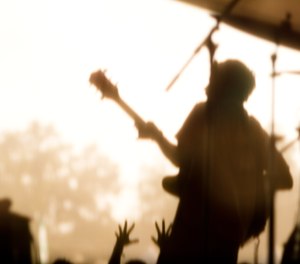 If you're a professional singer performing a concert and you can't hear yourself, your performance suffers. A bad performance might tarnish your reputation or even kill your career, but likely nobody dies.
In law enforcement, however, being able to hear clearly can literally mean the difference between life and death. In the noise and chaos of a critical incident, an officer needs to be able to simultaneously hear and understand verbal commands and radio communications while monitoring ambient noise from the surroundings. Add the need to be discreet and the need to do all this for an entire shift (and then some) and you've got an extra challenge.
The founders of N-ear understand this distinction.
From the stage to the station
As an audio monitoring engineer­ (the one who mixes the sound musicians listen to onstage during a performance), Mads Staerke was responsible for making sure that some of the biggest musical artists in Denmark could hear their own performances.
Staerke and his business partner, Jesper Martini, had a business serving the music industry. Working with law enforcement wasn't on their radar until a former colleague-turned-police officer approached Staerke to see if he could help the department with problems they had with their earpieces.
"We actually didn't have a product," said Martini. "So, we talked a lot to them and found out what it was that they needed, what was the problem with the equipment that they used at the time. And then we came up with a solution."
Complaints from the police officers about their existing earpieces weren't about audio quality, but about ear fatigue, situational awareness and comfort. So, the Danish duo went to work developing purpose-built earpieces designed for the needs of law enforcement.
"Police officers need clear communication, they need to know that it works all the time, and they need it to be comfortable all the time," said Martini.
The earpieces that Staerke and Martini designed for Danish police proved to be so well regarded that not too long after, they traded in their careers in live music and started N-ear to provide improve critical communications for those who protect others.
The N-ear difference
With N-ear, high-quality audio is a given. Having mastered that challenge first gives N-ear space to be inventive in solving for some of the other challenges, like comfort and compactness.
Both are achieved thanks to a distinctly different design than that of a typical acoustical tube earpiece. Instead of a bulky plastic tube with a mushroom-shaped tip that sits atop the wearer's ear canal like a cork in a wine bottle, the N-ear 360 feature a super-thin, lightweight wire and micro-speaker that extends deep inside the wearer's ear canal.
Avoiding ear fatigue
Arguably, ear fatigue is the biggest problem with traditional acoustic tube earpieces, and that has everything to do with comfort. Wearing an uncomfortable earpiece that needs constant adjustment not only detracts from situational awareness – a safety issue – but may lead an officer to remove the earpiece altogether, compounding the risk.
"The problem is that if your earpiece starts being annoying, your focus or your attention will draw toward your ear instead of whatever you're doing as a law enforcement officer," says Martini.
But the N-ear 360 is so thin and lightweight, an officer is likely to forget it's there.
"If they can't feel it, they don't think about it," he said. "And if they don't think about it, they can focus on the task that they are actually supposed to be doing."
Clear communication
Clear communication is vitally important, whether an officer is patrolling a noisy fairground or responding to a critical incident where sirens are blaring. A missed cue or garbled instruction from command staff can put an officer in danger, especially when conducting tactical operations. The design of N-ear earpieces places the micro-speaker deep into the ear canal, without occluding it, helping to deliver crystal-clear sound.
Discreet design
Covert operations especially require not only clear communications, but discreet ones as well. Whether serving a warrant, making an undercover drug bust or otherwise just trying to not stand out, the slim, design of the N-ear pieces allows for passive security, according to testimonials on the N-ear website.
On the other hand, some police officers want to be seen and visible in the community. Wearing a bulky earpiece can be a liability if it appears tactical and intimidating or inadvertently sends a "don't bother me" message. While bulky headphones may provide a welcome communication barrier insulating introverted office workers from their chatty cubemates, a police officer doesn't want to leave the same impression when trying to have a positive interaction with a citizen.
Purpose-built for police communications
Although the co-founders are audio experts, what distinguishes N-ear is not the quality of the audio, but the fact that they listened to law enforcement and built a solution to address police needs for clear communications and comfort which, at the end of the day, will keep officers more situationally aware and safe.
Visit N-ear for more information.
Read next: 

Request information from N-ear Inc.
Thank You!