NYPD needs to replace 36K police smartphones
Officials said the phones given to officers over the past two years are obsolete and can't be upgraded
---
By Police1 Staff
NEW YORK — The NYPD must replace 36,000 police smartphones because of outdated operating systems.
According to the New York Post, the city bought Microsoft-based Nokia smartphones and outfitted officers with them over the past two years as a part of a $160 million NYPD Mobility Initiative. Just a few months later, officials are planning to replace the phones with iPhones.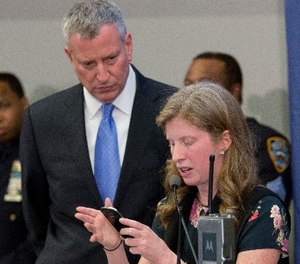 The move comes after Microsoft announced it will stop supporting the operating system that runs the phones and custom NYPD apps. 
The initial decision to use Microsoft phones was met with criticism.
"The NYPD's decision to go with Microsoft's mobile operating system seems to confound more than a few, since Windows Phone's 2.3 percent US market share is anemic when compared to Android's 65.2 percent and iOS's 30.9 percent," Digital Trends wrote in October. 
Sources told the Post that Deputy Commissioner for Information Technology Jessica Tisch insisted on buying the Microsoft phones because the NYPD was already using Microsoft software for its video surveillance program.
An NYPD spokesperson said they wouldn't discuss the situation until Tisch returned from vacation. 

Request product info from top Police Communications Interoperability companies
Thank You!