Police1 COVID-19 Innovation Series: How to manage today's challenges while preparing for long-term impacts
This on-demand webinar series highlights six technologies that can help law enforcement agencies support their communities and stakeholders through the COVID crisis and beyond
---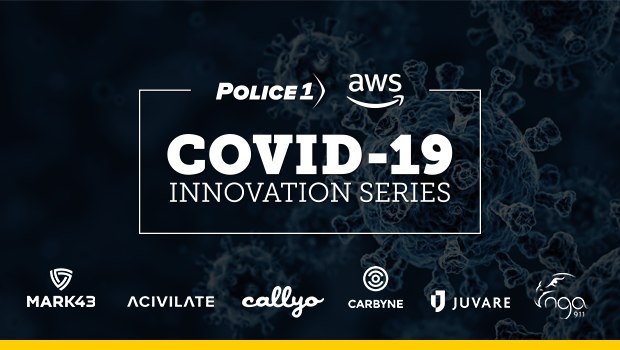 A Police1 Event, sponsored by Amazon Web Services
The COVID-19 pandemic is forcing law enforcement agencies to rethink how to meet their mission-critical demands while keeping the public and their officers safe, and agencies are turning to new and developing technologies to help them adapt.
From dashboards that offer a real-time view into data to tools that enable remote call centers, health screenings, staff safety and health tracking, to remote parole check-in and remote communication with residents, this special webinar series from Police1 and Amazon Web Services will showcase solutions helping agencies deal with the day-to-day challenges they face now while adapting to the new realities of a post-COVID-19 future.
Police1 hosted the following webinars with AWS and its technology partners to discuss solutions that can help law enforcement agencies deal with challenges now, tomorrow and in the future.
Webinars in this series:
Capturing actionable COVID-19 data for staffing and reimbursement
Agencies must document COVID-19 exposures and quarantines so command staff can adequately track and strategically deploy the limited number of healthy personnel in their agencies. The Pandemic Preparedness Package from Mark43 captures information in the field to provide actionable data on how COVID-19 is affecting your agency and to document COVID-19-related expenditures for reimbursement.
Using video chat and data sharing tools to reduce traffic to health centers
Live video chat, instant messaging and data sharing capabilities, dramatically reduce dispatch time, increases response efficiency, and ultimately saves lives. Learn how Carbyne911 is helping reduce the number of visitors to health centers by remotely evaluating and accurately mapping patients through multiple data sources and combining information across 911/ 311 centers, remote doctors, first responders, and dispatchers.
Tracking cases in real time for critical insights that save lives
Tracking COVID-19 cases in real time provides critical insights that can help agencies strategically allocate resources and manage constraints. Emergency preparedness and critical incident management and respond technology from Juvare breaks the information into a scalable dashboard view for instant viewing.
Managing probation and parole, engaging with vulnerable citizens via smartphone check-ins 
The COVID-19 pandemic makes it necessary to avoid face-to-face contact, but the need remains to monitor those on curfews, probation or parole and to ensure continuity of care for at-risk children, or self-isolation for social services clients under quarantine. Learn how an app from Acivilate makes it possible to provide necessary oversight from a distance.
Gaining situational awareness and sharing information using digitally-enabled 911 services  
Next-generation 9-1-1 is the future and it's here now. Learn how one California agency modernized their 9-1-1 system to take advantage of digitally-enabled services from NGA911 to give first responders more visibility into a scene, expedite responses and speed recovery with infrastructure that can withstand natural and human-caused disasters.
Communicating with the community at a safe distance
The pandemic has not reduced the need for law enforcement to respond to non-urgent citizen calls, it has just made it necessary to do so while maintaining social distancing. Learn how Callyo has developed its new Nectar app in record time to enables law enforcement and residents to communicate via a virtual phone and video network.

Request information from Amazon Web Services
Thank You!