The power of interoperability with advanced CAD-to-CAD technology
The power of interconnected hub technology improves your ability to be efficient and quick when dispatching services to the community
---
Content provided by CentralSquare Technologies
In a recent survey by Verizon for public safety communications professionals, 93% of respondents indicated that interoperability and coordination between agencies are critical when responding to emergencies. While most responders believe they're capable of doing their job, nearly 20% felt that they don't have the technology to be effective. 
As emergency situations are on the rise, and citizen expectations continue to grow, public safety responders need the tools to keep up with today's challenges. The solution – an advanced CAD-to-CAD network that allows the smartest utilization of resources and information sharing.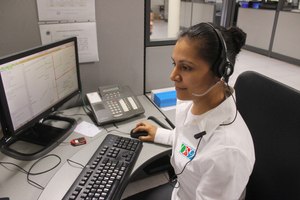 An Interconnected Hub 
CAD-to-CAD technology is often thought of as a point-to-point system. Yet, the true potential of an advanced solution is one that acts as an interconnected hub. 
The power of interconnected hub technology improves your ability to be efficient and quick when dispatching services to the community.
Capabilities such as sharing data simultaneously to multiple connected computer-aided dispatch systems or sending and receiving alerts to and from non-PSAP entities ensure that your agency is maximizing time and resources. 
There are a number of ways that agencies can share data and collaborate through a CAD-to-CAD network, including 
A shared portal that shows a real-time view of incident details 

Incident sharing through configurable pop-up alerts 

A unified system that allows bidirectional incident and unit-sharing embedded in each CAD 
Agencies like Confire JPA Emergency Communication Centers in San Bernadino County, California, have seen the benefit and the power of interoperability and the interconnected hub. 
Before modernizing to CentralSquare's Unify (CAD-TO-CAD) Confire JPA dispatchers were receiving approximately 4,000-6,000 calls per month. After implementing the new technology, they were able to reduce that number to 1,000 calls because of the ability to easily share critical information. 
They now spend less time communicating with other agencies, and more time helping citizens in need. 
Additionally, Confire has connected with the regional gas and energy company to provide them with direct incident information and coordinate response efforts. In an emergency such as a structure fire, they are able to inform their local energy company to secure utilities and make the scene safe for firefighters. 
CAD-to-Everywhere 
The effects of an emergency not only span jurisdictional borders, but incidents can also impact non-PSAP entities. In the case of a fire, shooting, or natural disaster, it's not just first responders who need to be on alert. However, all neighboring organizations and entities must be informed. 
Consider your current operations of information sharing. How do you alert schools and communicate with the school administration if there are events on or near campus?  What is your current process to inform a hospital that there is a transport coming? How do you notify a tow company that a person is stranded on the highway and needs their services? 
The ability to connect with both PSAP and non-PSAP entities empowers you to increase efficiency in information sharing, and it keeps responders and citizens safe. 
The Portland Dispatch Center Consortium has developed innovative approaches to critical information sharing and emergency response with non-PSAP services. Anytime they receive a call that has a mental health component, their system is configured to send an alert to mental health services to assist the unit responding to the incident. 
Primarily, this ensures that the citizen involved receives the appropriate help they need, and that law enforcement doesn't approach the situation as a routine incident or call. This focus on mental health also provides greater situational awareness for the officer or responder.  By being better informed, they are able to make safer and smarter decisions. 
The Impact of CAD-to-CAD 
At some level, all agencies experience challenges whether it be staffing shortages, limited budgets, lack of resources or outdated technology. Our software is built to mitigate the efficiency and resource challenges facing public safety organizations. 
In one case, it may be that another agency is geographically closer to respond to a call, but the incident is out of their jurisdiction. In another instance, an agency might not have enough resources to handle the situation, but another agency can help. 
Your community relies on the belief that when they call emergency services for help, someone will answer. Having the advanced technology to coordinate response efforts and share critical incident information with those who need it most makes this belief a reality. 
Whether you're looking to modernize to a new solution, or simply want to learn more about the benefits of CAD-to-CAD, connect with our experts and learn how CentralSquare can partner with you in your journey. 

Request information from CentralSquare Technologies
Thank You!