PRESS RELEASE
APD teams up with RapidDeploy to offer complete hosted solution to critical control operations
---
Software pioneer APD Communications has announced an alliance with fellow technology market leader RapidDeploy to provide a complete hosted solution for control room operations globally.
The collaboration brings together complementary, cloud-based technologies to enhance the efficiency and effectiveness of critical control operations.
It offers an unrivalled combination of APD's Cortex software-only Integrated Communication Control System (ICCS) with RapidDeploy's mission-critical dispatch solution.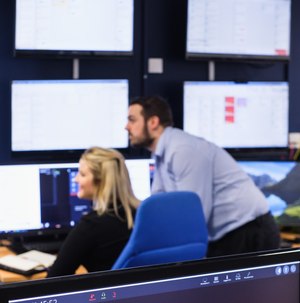 Cortex is used to answer emergency calls and communicate with frontline responders in more than 70 control rooms around the world. The software brings radio, telephony, CCTV and access control together on one screen, enabling organisations to connect, collaborate and communicate rapidly and effectively.
RapidDeploy provides an innovative cloud-based call-taking and Computer-Aided Dispatch (CAD) platform serving public safety and other markets. The RapidDeploy system simplifies the complexity of emergency dispatch through precise address location, improved situational awareness, allocation of appropriate resources for optimised response, mobile field service apps and advanced incident management tools.
APD Marketing and Sales Manager Rhiannon Beeson said: "Our work with RapidDeploy is exciting for both businesses and also for our customers. We're delighted to be working with a partner that shares our vision for cloud-based technologies that break the boundaries of tech development.
"Our complementary technologies will sit alongside each other to create a full control room suite, for handling calls through our Cortex software and dispatching the required resources through RapidDeploy."
"We're changing the way control rooms operate by delivering the very latest technology and harnessing the power of the cloud to deliver truly flexible, innovative and cost-effective control room solutions for the global critical communications market."
Steven Raucher, Chief Executive Officer of RapidDeploy, said: "By announcing this partnership, we have selected the most innovative control room integrator in both the UK and United Arab Emirates. We look forward to building a successful partnership as we bring our best of breed CAD solution to a broader public safety market."
The alliance is APD's second with a CAD supplier and builds on an existing relationship with digital transformation leader Sopra Steria and its command and control solution, SmartSTORM.
Mrs Beeson added: "By introducing another CAD partner to our portfolio we're giving our customers more choice if they contract through us. They can build a control room solution with us that brings in more than just our own technology. The solution is already available on UK frameworks and therefore easier for our customers to purchase.
"This new collaboration means we're well placed to expand further into international markets and offer more organisations managing critical control operations the benefits of entirely scalable, flexible and adaptable cloud-based technologies that deliver efficient operational workflows for the entire control room."
APD's software is a vital part in the infrastructure supporting the emergency services and transport and aviation operators nationally and internationally.
The company's technology is used by 69% of UK police forces; several fire services, helps to run the London Underground; and is a key part of the critical communications infrastructure at Dubai International, the world's busiest airport.
APD is also at the cutting edge of software development for the Emergency Services Network (ESN), a new, state-of-the-art communications network for the UK's emergency services.
To find out more about how APD supports and enhances control room operations go to www.apdcomms.com/products
For more information about RapidDeploy please visit www.rapiddeploy.com
ENDS
For media enquiries please contact:
John Meehan, Meehan Media & Comms (on behalf of APD Communications).
Tel 01482 223479 or 07803 199492.
E-mail: john@meehanmedia.co.uk
Notes to Editors
APD Communications
APD Communications creates secure, intelligent and connected control room and fleet technologies that help organisations protect and preserve society.
Founded by two academics from the University of Hull in 1984 and still based in the city, APD has developed cutting-edge digital technology for more than 30 years and is an acknowledged market leader in software development.
APD made its name in the 1980s by designing and delivering the world's first real-time bus tracking system, which then became the industry benchmark. Later, APD engineered the Eurotunnel communications network, facilitating connectivity between the British and French borders and inside the tunnel itself.
Today, 69% UK police forces employ APD's technology, while APD also services the national transport and aviation sectors. The London Underground runs safely and on time with assistance from APD technology, which tracks train locations and supports control room collaboration across the 250-mile network.
Internationally, APD has an ever-growing presence, powering mission-critical control rooms in Sweden, Ireland and the United Arab Emirates. At Dubai Airport – the world's busiest international passenger airport with 77m passengers annually – APD's integrated control room solution keeps the entire operation safe, secure and running efficiently.
The company's partners are an integral part of the service and technology APD delivers. APD's technology partners include mobile communications pioneer Motorola; global digital solutions provider Avaya; network services provider telent; and digital transformation leader Sopra Steria.
APD is at the forefront of preparations for the UK's new digital Emergency Services Network (ESN). APD is working with police, fire and ambulance services around the UK to upgrade to world-leading technology, enabling a business-as-usual transition.
APD provides its customers with a dedicated support team, available 24/7, 365 days a year. Every APD employee has official security clearance, ensuring customers can have full confidence that their sensitive data is in safe hands.
The company is showing strong growth, with turnover in 2017 reaching £9m, up 32% on the previous year, powered by APD's market-leading products, including Cortex, Aspire and Artemis.
Cortex is APD's Integrated Communication Control System (ICCS) used in more than 70 control rooms around the world. Cortex brings radio, telephony, CCTV and more together on one screen, helping organisations to connect, collaborate and communicate rapidly and effectively when it matters most. A trailblazer in this field, APD has developed and launched the world's first hosted ICSS, at Karolinska Hospital in Stockholm, Sweden, supporting the efficient running of the entire hospital operation all day, every day.
Aspire is APD's contact management solution, designed to help emergency services organisations to identify and protect vulnerable people. A software solution that can be integrated easily with existing command and control applications, Aspire provides APD's customers with full contact history to make informed decisions and save lives.
Artemis is APD's solution for fleet management and the remote transfer of data and information from vehicles to control rooms and fleet managers. The only technology of its kind built specifically for the emergency services, Artemis helps customers to improve use of resources and driver behaviour and ensure vehicles get to where they need to be promptly and efficiently.
These technologies work independently and inter-dependently to support organisations across the public and private sectors. APD is attuned to meeting the needs of organisations with critical operations that rely on instant and highly-resilient communications.
RapidDeploy
RapidDeploy is an innovative cloud-based call-taking and Computer-Aided Dispatch (CAD) platform serving public safety and other markets. Designed by first responders, RapidDeploy uses leading technologies to solve the key challenges faced by emergency services providers.
RapidDeploy simplifies the complexity of emergency dispatch through precise address location, improved situational awareness, allocation of appropriate resources for optimized response, mobile field service apps and advanced incident management tools. RapidDeploy's end-to-end solution enables effective coordination of all active resources as well as full audit trails for quality assurance. Founded in 2014, RapidDeploy is setting the standard for Mission Critical Dispatch. Learn more at rapiddeploy.com