Alcatel-Lucent Deploys Public Safety LTE Network for Enhanced Safety of Competitors and Spectators During NCAA Rowing Championship 2012
At a glance:
• Public Safety LTE broadband network to enable real-time video to enhance safety and security
• Deployment highlights the capabilities for large scale event management that LTE broadband will enable in future
• National Collegiate Athletic Association (NCAA) Rowing Championship taking place on Lake Mercer, West Windsor, New Jersey, May 25-27, 2012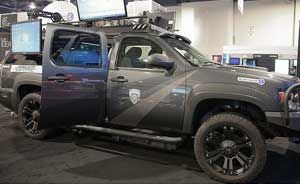 Thanks to a dedicated mobile broadband network from Alcatel-Lucent, park rangers, emergency medical services and event organizers at the National Collegiate Athletic Association (NCAA) Rowing Championship will be using real-time visual information (streaming video, image transfer) to ensure the safety and security of competitors and spectators.
Alcatel-Lucent is providing a public safety 4G Long Term Evolution (LTE) mobile broadband network using Band 14 along with its Striker 1 mobile command vehicle to centrally monitor video surveillance cameras placed strategically around Lake Mercer for the duration of the Championship. Thanks to LTE, surveillance video will also be shared with park rangers on boats to aid in their management of the event safety. The deployment provides cost-effective, real-time visibility over a large area from a central monitoring point, allowing public safety personnel to respond more quickly and precisely to incidents on the water and medical emergencies. It also enables better monitoring and management of the thousands of spectators expected at Lake Mercer.
This is the first use of a public safety LTE network at a large scale water event in the US. The deployment demonstrates the advantages that LTE mobile broadband brings in enhancing situational awareness and collaboration between different organizations. A video feed of the event for the media and public will also use the same LTE public safety network, highlighting that public safety LTE has the capacity and capability to ensure and prioritize mission critical operations while still supporting non-critical traffic.
LTE is considered the best technology to provide mobile broadband for the public safety sector, with bandwidth, reliability and cost of ownership in its favor. Alcatel-Lucent is drawing on its experience as a leading supplier of LTE solutions to telecommunication service providers to help public safety agencies around the world plan their transition to LTE.
In October 2011, the City of Charlotte selected Alcatel-Lucent to deploy a hosted core LTE public safety network in the dedicated 700 MHz frequency spectrum. In a recent LTE trial with Sao Paulo Military Police, live video has proven invaluable, improving situational awareness, aiding faster, more accurate decision making, and ultimately increasing the safety of first responders and their communities.
ABOUT ALCATEL-LUCENT (EURONEXT PARIS AND NYSE: ALU)
The long-trusted partner of service providers, enterprises and governments around the world, Alcatel-Lucent is a leading innovator in the field of networking and communications technology, products and services. The company is home to Bell Labs, one of the world's foremost research centers, responsible for breakthroughs that have shaped the networking and communications industry. Alcatel-Lucent was named one of MIT Technology Review's 2012 Top 50 list of the "World's Most Innovative Companies" for breakthroughs such as lightRadio™, which cuts power consumption and operating costs on wireless networks while delivering lightning fast Internet access. Through such innovations, Alcatel-Lucent is making communications more sustainable, more affordable and more accessible as we pursue our mission - Realizing the Potential of a Connected World.
With operations in more than 130 countries and one of the most experienced global services organizations in the industry, Alcatel-Lucent is a local partner with global reach. The Company achieved revenues of Euro 15.3 billion in 2011 and is incorporated in France and headquartered in Paris.
For more information, visit Alcatel-Lucent on: www.alcatel-lucent.com, read the latest posts on the Alcatel-Lucent blog and follow the Company on Twitter.
Alcatel-Lucent and Public Safety
To meet the needs of first responders, Alcatel-Lucent acts as the end-to-end system integrator to design, integrate, deploy, operate and maintain robust, resilient communication solutions. Alcatel-Lucent understands public safety requirements and brings to each project its accumulated expertise in the customization of mission-critical communications systems. A broad product portfolio provides mission-critical network solutions that reliably and efficiently interconnects all types of fixed and mobile communication networks, and provides LTE for public safety mobile broadband. Alcatel-Lucent solutions are effectively running in multiple mission-critical Public Safety networks around the world. For more information on Alcatel-Lucent solutions for Public Safety, please visit: www.alcatel-lucent.com/publicsafety.