Implementing a program to reduce and manage police officer injuries
Chief Benjamin Bliven and Tactical Athletic Trainer Traci Tauferner discuss the strategies they are deploying to maintain officer wellness at the Wausau Police Department
---
Download this week's episode on Apple Podcasts, Amazon Music, Stitcher, Spotify or via RSS feed.
Officer injuries, whether they are personal or work-related, can be overwhelming, timely and costly. Injured officers should receive immediate attention and the best possible treatment so they can return to duty faster.
At IACP 2022, Wausau Police Chief Benjamin Bliven and Tactical Athletic Trainer Traci Tauferner discussed the department's program to help small agencies operate at their highest level of performance by reducing the chance of injury and shortening an officer's time away from duty when injured.
In this episode of Policing Matters, host Jim Dudley speaks with Chief Bliven and Traci Tauferner about how they are providing ergonomic strategies and prevention resources that will help reverse the negative side effects of a career in law enforcement.
Top quotes from this episode
We hire really great people who are really good at solving problems, so if we do officer wellness right and keep them healthy physically, emotionally and mentally and keep their stress levels done, they are going to do outstanding things in our community." 
The services are everything you can think of that an athletic trainer would provide like they do for a sports team."  
With your officers, how long are they out for an injury? Certain injuries should not linger and the reason why they are lingering is because they have an inappropriate plan of care."
Additional resources on this topic
Small Agency's Guide to Officer Injuries by epraetorian on Scribd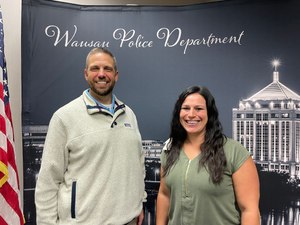 About our guests
Benjamin Bliven has served as the chief of police for the Wausau (Wisconsin) Police Department since 2018. He has served in law enforcement since 1999. 
Chief Bliven earned a Bachelor's degree in Criminal Justice from UW - Eau Claire and a Master's degree in Human Resources Training and Development from Seton Hall University. 
He is a graduate of the 268th session of the FBI National Academy and the 251st session of the Northwestern School of Police Staff and Command. 
Traci Tauferner, Director of Industrial Medicine and Wellness with Advanced Physical Therapy & Sports Medicine, has worked with law enforcement, fire and EMS agencies since 2010.
She holds a bachelor's degree in Athletic Training and Strength & Conditioning from the University of Wisconsin Oshkosh. She is passionate about trauma and is additionally certified in trauma-informed weightlifting, peer support and crisis intervention. She provides agencies with a proactive approach to wellness and injury prevention. She is also a veteran of the Wisconsin Army National Guard.
Connect with Chief Benjamin Bliven and Traci Tauferner
Connect with Traci Tauferner
About our sponsor
This episode of the Policing Matters Podcast is brought to you by L3Harris. When seconds matter count on dependable coverage on and off campus. L3Harris offers flexible and affordable portables. Communicate on the move with Wi-Fi voice and data, GPS, and app-based devices that keep you connected. Schedule your demo today.
RATE AND REVIEW THE POLICING MATTERS PODCAST
Enjoying the show? Please take a moment to rate and review us on Apple Podcasts. Contact the Policing Matters team at policingmatters@police1.com to share ideas, suggestions and feedback.