Introducing Bear Star Radio Brackets for Body Cameras
---
Got an MD80 Mini DV Video camera?   Is it hanging on your pocket and flapping all over your chest?  Can't find the button when your situation gets serious?  Don't like the tilted playback?  Here's a solution to mount it securely and capture a centered shot.
Field proven for over 2 years, the BS-25 mount is now being offered to Deputies and Officers.   This simple mounting plate secures your camera to your portable microphone.  Using commercial adhesive, it secures the cage mount of your MD80 adjacent to the microphone.   The bracket is best used with a Portable Radio that is issued to you.  Once mounted it does not alter the microphone in any way, and is removable only if you want it to be removed.  Mounts are available for both the Motorola Astro, EF Johnson and the older GE MRKII.
Mounted next to your microphone, The Mini DV camera is properly positioned at the ideal height to afford the best field of view. To accommodate different uniform and vest combinations, the mount is designed to allow simple vertical adjustment of the field of view.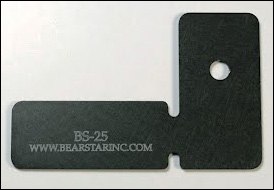 The camera activation button is presented in a manner consistent with a familiar area of reach, your microphone.   Mounted side-by-side with the microphone the camera blends in.  Its presence and activation are much less obvious to the public.
This product has been conceived, designed and marketed by a Reserve Deputy Sheriff.  It has been extensively Patrol tested and proven.  It is built by Americans in the United States. Visit www.bearstarinc.com for more information.