Colo. sheriff's office tests remote-controlled mini copter for search operations
---
By Wyatt Haupt Jr.
Grand Junction Free Press
GRAND JUNCTION, Colo. — In a move that could revolutionize the way search and rescue missions are conducted, the Mesa County Sheriff's Office is performing a series of tests with an apparatus capable of providing life-saving assistance.
The testing centers on an unmanned, remote-operated miniature helicopter that weighs in at slightly more than two pounds. Powered by brushless motors and rotor blades mounted at the end of three arms, the mostly carbon-fiber aircraft handles and maneuvers with ease.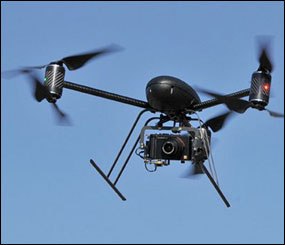 Attach a thermal imaging or infrared camera and the machine, known as Draganflyer X6, becomes a perfect complement to law enforcement personnel on the ground during search and rescue efforts.
Read full story: Sheriff's office tests remote-controlled, unmanned mini copter for search, rescue operations