Police continue to use GPS to track suspects despite murky law
---
Associated Press
MADISON, Wis. — Investigators were tipped that habitual criminal Bernardo Garcia was back to making and dealing methamphetamine in 2005 but they needed more evidence to nail him.
So they secretly installed a GPS to his borrowed Ford Tempo. The technology showed Garcia often drove to land in northwestern Wisconsin, where investigators found a stash of meth-making equipment.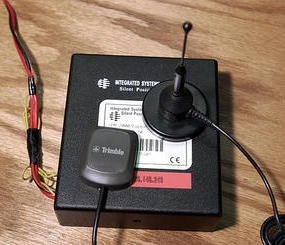 Garcia, who once bragged he could make meth across from a police station without getting caught, drove to the scene while investigators were there. He was arrested, convicted and sent to prison.
Across the nation, investigators are using GPS to catch drug dealers, burglars, stalkers and other criminals. Police say the devices, which rely on satellites to determine locations, are similar to trailing a suspect with officers but more effective.
"It's been a very good investigative tool," said Craig Klyve of the Wisconsin Division of Criminal Investigation, whose agents install GPS on cars up to 75 times a year. "The technology allows you to track and maintain a history of movements of a vehicle over a period of time in a way that your surveillance doesn't get burned and is much less manpower-intensive. It's a way to work smarter."
Privacy advocates and criminal defense lawyers beg to differ. They say the technology goes beyond surveillance and could be used to create a detailed, around-the-clock profile of one's movements. Because the trackers are so affordable, they view them as a privacy threat that could reveal one's political, religious and personal associations to law enforcement.
Courts are now grappling with how to balance privacy rights against an investigative technique hailed by state and local police, the Drug Enforcement Administration and FBI.
"We're seeing more and more cases," said Jennifer Granick, civil liberties director at the San Francisco-based Electronic Frontier Foundation. "The law is struggling to understand the way in which these kinds of sophisticated tracking technologies change the calculus for what is private and what is an overly invasive technique."
The U.S. Supreme Court ruled in 1983 that drivers on public streets do not have a reasonable expectation of privacy and police could place radio "beepers" in cars without warrants. Whether courts will treat GPS differently remains unclear.
Earlier this month, New York's highest court ruled 4-3 that police must obtain search warrants before they can secretly attach devices to vehicles.
But the week before, a Wisconsin appeals court ruled GPS tracking did not involve a search or seizure under the Fourth Amendment so a warrant was unnecessary. The court warned "police are seemingly free to secretly track anyone's public movements with a GPS device" and called for a state law to prevent abuse.
Some state lawmakers responded by drafting a bill that would require police to obtain warrants first.
"I don't want the government to be able to track and monitor people wherever they go," said Rep. Marlin Schneider, a Democrat. "One of our great freedoms in this country is our right to travel and that's undermined if we're under constant surveillance."
The federal appeals court in Chicago in 2007 approved the warrantless GPS tracking of Garcia, now 35.
Judge Richard Posner wrote police had ample reason to suspect Garcia of crimes - but acknowledged the technology could one day be used for massive police surveillance. A federal appeals court in Washington, D.C., will rule in a similar case soon involving a drug dealer busted with the help of GPS.
Klyve said his agency does not get a warrant before installing the devices in most cases, when vehicles are parked in public places. He said agents will obtain warrants if installation is done on private property or requires opening a car hood or trunk.
Some devices, such as the one that helped nab Garcia, must be retrieved and have the tracking information downloaded to a computer.
Others allow their whereabouts to be downloaded by cell phone for real-time tracking or send out alerts when entering targeted areas. Klyve said those techniques have allowed police to catch serial burglars and arsonists in the act.
A company called StarChase LLC is even working with the Los Angeles Police Department and others to test technology in which squad cars shoot miniature GPS tags onto passing vehicles. The GPS sends real-time information to headquarters, where dispatchers could send officers to catch suspects and set up roadblocks. The goal would be to reduce the danger associated with chases.
As the technology quickly advances, privacy advocates worry the law is not catching up. Bruce Rosen, a Madison defense lawyer who has represented suspects tracked by GPS, said the public has no idea how police are using the technology if warrants are not required.
"Where no paperwork is being created and people are free to do this, I think it's going to have very bad consequences," he said. "These kinds of activities have to be subject to review, scrutiny and accountability."
But his firm has learned a benefit: the power to prove innocence. The firm represented a man suspected of stalking his ex-wife and beating her. A GPS secretly installed on his vehicle showed he was not at the scene at the time of the alleged beating and the case was dismissed.
"I like the technology because it has the ability to convict the guilty and exonerate the innocent. Other than DNA, I don't know anything that does it quite as well," said David Schumann, a Janesville lawyer who runs a blog on legal issues related to GPS evidence. "And unlike DNA, it will save tons and tons of taxpayer money and police time."
And mishaps occur.
Agents try to surreptitiously install the devices but have been caught by surprised suspects, Klyve said. In one case, a driver got into an accident, found the GPS and threw it into Lake Michigan. In another, a car equipped with the device was crushed.