SkyTerra offers satellite telephone/radio with push-to-talk capability
MSAT-G2 designed for rural, remote, disaster-prone areas
---
By Scott M. Bruner
Police1 Product Editor
Emergency responders working outside of traditional radio coverage, where remote communication mobility is essential, have a limited number of options. One option is satellite radio capability, and one of the top products in the field is SkyTerra's MSAT-G2 combined two way radio, telephone, and data device.
"We are the only satellite owner and operator in North America that offers push-to-talk. That's the primary reason people are buying the MSAT-G2" Jim Corry, vice president of customer solutions for Skyterra, said. "The MSAT-G2 is able to meet the need of coverage in rural areas where there's no cell or radio coverage."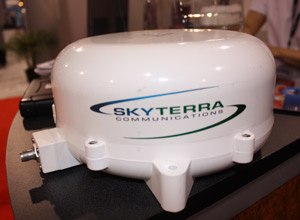 The MSAT-G2 Satellite Radio is a three piece unit. It consists of a motor-driven satellite antenna, Hughes 2100 transceiver, and a DT200 Series handset. The antenna automatically acquires and tracks the signal from the SkyTerra satellites. The transceiver sends and receives signals in the L-Band at 1500/1600 Mhz and also offers GPS capability. One of the advantages of the L-Band is its immunity to weather.
"The L-Band is unaffected by weather. We had units during the worst of Hurricane Katrina talking over our network," Corry said.
According to Skyterra, because the satellite is geosynchronous, when locked into the satellite, you won't lose the call. Because of its mobility, the MSAT-G2 is used for a number of applications. In addition to providing rural coverage, it is also used for disaster management, and units are heavily used along coastlines and in areas faced with the risk of ice storms, hurricanes, and earthquakes.
The MSAT-G2 can also be used with a number of commercially available interoperability units and vehicle repeaters. An officer can use an interoperability device in a patrol vehicle to link the SkyTerra device with his traditional land mobile radio and maintain connectivity with the network.The MSAT-G2 handset can operate as a traditional two-way radio or as an analog telephone.
The MSAT-G2 can be installed in a number of options, from a vehicle mount to a mobile "Go-Kit" to installation in a building. The "Go-Kit" configuration is a mobile version with the MSAT-G2 in a case with a portable battery.
The MSAT-G2 was released in February 2006. An MSAT-G2's MSRP is $4,800 while the price for installation varies whether it's for the "Go-Kit" model, vehicle, or for a fixed building.
An additional interoperability feature offered over the SkyTerra communications network is the Satellite Mutual Aid Radio Talkgroup (SMART) program. SMART is a satellite-based service that connects federal, state, local and tribal public safety professionals via numerous overlapping national and regional talkgroups. – including a national talkgroup for law enforcement organizations.
"The SMART program is designed to tackle the financial and governance challenges that have often impeded the development of interoperable public safety communications," Corry added.
SkyTerra is North America's leading developer and supplier of mobile satellite communications services (MSS). You can find them on the Web at www.skyterra.com.