Hytera launches three new digital radios
Company rolls out new products at IWCE
---
By Scott M. Bruner 
Police1 Product Editor
A number of overseas companies rolled out new products at Las Vegas' IWCE show in March. China's Hytera took the opportunity to introduce three new radios, each compliant with new DMR standards, which could make a significant impact in the public safety realm.
PD782 Digital Portable Radio
The PD782 Digital Portable Radio has been designed as a mobile option to provide high audio quality with a wide coverage area. It can handle both analog and digital standards. It produces an extra 40 percent operational time when compared to analog when operating at the same output power. The radio has also been designed to meet MIL-STD-810 C/D/E/F and IP57 waterproof standards, to survive tough conditions. The radio can handle individual, group and all voice calls. Other features include text messaging, emergency alarms, a scanning feature to keep track of team members and options for software upgrades.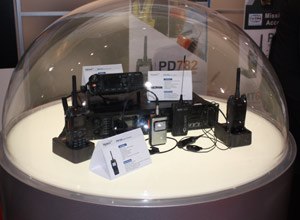 The MD782 Digital Mobile Radio
The MD782 Digital Mobile Radio comes with a TFT high definition color LCD, features a reserved port for additional functions, and has a keypad with six programmable keys. The MD782 features a number of digital features including messaging, GPS, data transmission and a connection alert feature. Other features include DM and RM operation modes, IP service, multiple signaling, telemetry and telecontrol, and software upgrades.
Hytera also released the RD982 Digital Repater which, like the PD782, can function in digital or analog. The RD982 supports 100 percent duty cycle at 50W. It also features a heat sink and cooling fan to handle stable operations at high power. The RD982 can be mounted in a rack, bracket or cabinet or on a desktop.
The RD982 Digital Two-Way Radio
The RD782 Digital Two-Way Radio also has a high-definition color display for radio information. It featured TDMA technology which allows twice the users to share the same channel compared to analog or FDMA systems. It also has enhanced digital encryption. When operating in analog mode, the RD982 can operate in repeater or base mode. In base mode, it can be used as a duplex transceiver.
Hytera, headquartered in Shenzhen, China, is a global leader in professional two-way radio equipment. They have been developing and promoting digital products since 2003. For more information about Hytera and the new DMR and Tetra radios go to www.hytamerica.com or contact marketing@hytamerica.com.

Request product info from top Police Secure Communications companies
Thank You!