How to buy police training tracking software
If your PD is still manually tracking officer training, your operation is neither effective nor efficient
---
In this article, I wrote about how tracking officer training can help you if you are called in by an angry board of supervisors, police commission, or defense attorney. If your agency is still tracking officer training manually, that would mean you have to search through a bunch of file drawers for hand-written, and possibly illegible or faded documents, whenever you are required to show which officers have received training in which skill.
With the availability of advanced immersive simulation for everything from how to handle a firearm to incident de-escalation to active-shooter training, the amount of information you need to track has increased exponentially.
Technology now lets you combine printed, computer-generated and simulator session records in the cloud, freeing up physical space in the office and giving your staff back the time to focus on what truly matters: Delivering cutting-edge training to keep your cops and communities safe.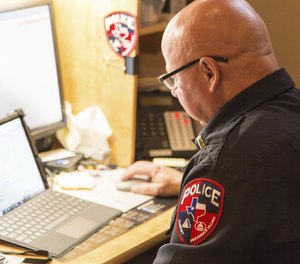 Here are six questions to ask before buying police tracking training software:
1. Does the system work like you work?
Will you need to change your procedures to shoehorn them into the software? There are many software implementation disaster stories because they required wholesale changes to the way that an organization worked before the software was implemented.
Of course, this brings up a really good question: Do you have a training process and procedures manual or do you "wing it?" It's much easier to implement an automated process if you already have a written process.
2. What does the software track?
At a minimum you need it to hold each employee's name, ID number, staff position and contact information. You also need to register all future internal and external training classes, and the dates, times and number of slots for each future session. Can you enter a class description and duration just once (say driver training) and then link future sessions (weekly or monthly presentations) to it, or do you need to enter every session as if it was a new class?
Don't forget you also need to enter past classes and who was in them, as well as their scores or evaluation notes.
3. Does the system handle firearms qualifications, scores and pass/fail details?
Can it easily track the weapon, serial #, make and model used for the qualification? While each officer should have their own issue sidearm and maybe a personal backup, patrol rifles are usually "communal," and you may want to look up qualifications by a specific firearm.
4. How easy is it to look up information?
Can you check what classes are available, who has signed up and who has been invited but has not yet signed up?
Does it have a dashboard for each officer, showing what training they took and when it was taken? Can it show which mandates have not been met by each officer and how long they have to complete the mandate before they need to be put on suspension?
Why would you need to suspend an officer because he or she missed some training? Did you know that lawsuits can be filed under Title 42, U.S. Code, Section 1983, for failure to train? This Police1 "Legal Corner" article is a must read if you need some ammo to help increase your training budget.
5. Does the system have a built-in mail merge feature?
This feature can be used to select the participants you would like to invite to an event and send them an invite with the dates and times, location with a map and a link to the sign-up page. Can it send a reminder to participants the day before the training?
6. Does the software integrate with other systems?
To avoid entering information twice, look for software that integrates into systems like personnel scheduling, and payroll and accounting. Can the system keep track of expenses including course name, location, start date, number of participants, total expenses and reimbursement status? Many classes have federal or state funding but you need proof of attendance and expenses to claim it.
Conclusion
Software to track officer training can be a huge productivity booster – or a time sink – depending on what you buy and how you use it. If implemented properly, it can make life easier for your training and accounting staff, ensure that officers receive the training they require and, most important, help prove your department is meeting community standards.