Why you should stop listening to the critics and go earn your college degree
A college education plays an important role in developing the interpersonal skills and critical thinking required as a law enforcement officer
---
By Marcus Rinaldi
"What a waste of money!" "You don't need college for this job!" "Do you think you're smarter than everyone else?"
These are just a few of the comments I have received from others in law enforcement when they found out I went back to school to earn my master's degree.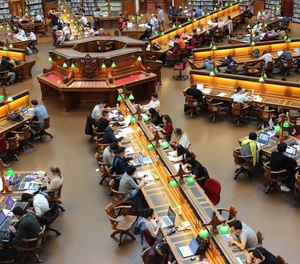 While not every comment I received was negative, there does appear to be a stigma within the law enforcement community against officers obtaining higher levels of education. With a portion of the agencies across the U.S. still only requiring a high school diploma for employment, could these "naysayers" actually be right? Why would an officer invest in further education and incur possible debt when others within the same profession can advance just the same without a degree?
At times I have even doubted the worth of the time, money and effort I put in to earn both my bachelor's and master's degrees. But when I think about the impact it has had on me both as a person and a professional, I realize the important role it has played in developing my abilities as a law enforcement officer.
As a young and inexperienced 21-year-old who was just given a gun and a badge, I started my first solo shift with zero idea of what to expect. Sure, I had completed the six-month police academy that had attempted to create training scenarios of what I could expect, but no training can prepare you for some of the extreme incidents you will witness as a law enforcement officer. 
I quickly learned that to survive in this profession, it is crucial to be able to talk to people. Every police officer can remember some point in their career when an average citizen looked at them and said, "You're a rookie." The phrase stings to the ears and you find yourself quickly looking for a way to shed the label.
In those initial moments as a new officer, I relied upon something I had developed in college – interpersonal skills. Having gone to school in both the Albany and Rochester regions of New York, I was able to meet and interact with a range of people from different socio-economic backgrounds. People from all different walks of life sat next to me in the dining hall, in class, roomed with me in the dorms, worked on projects with me after class, or even studied with me the library. Being thrust into the large melting pot that is a college campus is an invaluable way to gain life experience and develop those interpersonal skills required to interact in a meaningful way with others. 
So, as a rookie law enforcement officer, I relied upon that ability to simply talk and connect with people I encountered on the job. Instead of being a robotic officer reciting laws and statues from the penal law, I used my interpersonal skills to connect with the people I encountered. With connections being developed more easily, I started noticing the public stopped using the word "rookie." 
A few years into my law enforcement career I went back to school and obtained my master's degree. I also took a new position in the Criminal Investigations Division of my department. As a detective working in an Abused Person's Unit at a Child Advocacy Center, I can undoubtedly speak on the importance my college experience has had on my work. 
At a Child Advocacy Center, detectives often work within a multi-disciplinary team (MDT) that can consist of child protective service workers, victim advocates and assistant district attorneys. Each of these individuals work together to best treat the victim, as well as develop the best possible case against the suspect. 
Within this position, the hours I spent on group work, presentations and developing interpersonal skills in college became extremely relevant. Reflecting on the long nights I spent in class during my graduate studies I now can appreciate the discussions and debates I had with my classmates while working to develop solutions to common problems facing criminal justice entities. This presented the opportunity to have to learn how to effectively work together with others from different professional and personal backgrounds. Though I did not realize it at the time, this experience of working together to form solutions on criminal justice issues with professionals in social work, counseling and education, ultimately prepared me for working on an MDT.
For those in law enforcement considering going back to college, starting for the first time, or continuing in some higher level of education, drown out the "naysayers" and negative comments of others. Ignore the stigma generated by some in the law enforcement field. Strive for the personal merits associated with earning an education. The skills and abilities you can gain from the college experience one day may open new doors or avenues for you in your career in law enforcement.
---
About the author
Marcus Rinaldi is a sergeant with the Onondaga County Sheriff's Office. During his career in law enforcement, he has been assigned to road patrol, the abused persons unit and the evidence technician unit.  He received his bachelor's degree in the study of political science from SUNY Geneseo and his master's degree in the study of criminal justice administration from Keuka College.  

Request product info from top Police Continuing Education companies
Thank You!