PRESS RELEASE
Announcing the 1st Annual NY Tactical EMS Expo and Training Symposium
---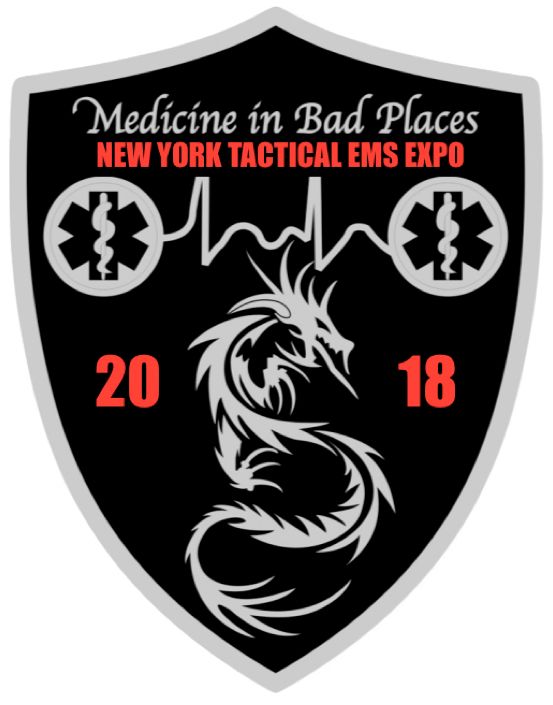 MELVILLE, N.Y. — The 1st Annual NY Tactical EMS Expo is coming to Long Island January 6th and 7th, 2018 at the Huntington Hilton Expo Center in Melville, NY. The expo will feature 2 events under 1 roof bringing together the best training and products in the fields of EMS, Fire and Law Enforcement. There is 10,000 square feet of vendors, exhibits and public safety trade show featuring products by Quick-Clot, Rusch, Stat-Packs, EZ-IO, Rescue Essentials, X-Stat/RevMedX and many more local and national names. The 2 Day Training Symposium features some of the top educators, providers covering some of the most relevant incidents to us as first responders such as the Boston Marathon Bombing, Pulse Orlando Shooting, Bourbon Street Shooting, and many other MCI, Operational Medicine and Tactical Medicine case reviews, topics and hands on scenario and skills training. 
Featured faculty such as Lt. Colonel Stephen Rush, M.D.-USAF Para Rescue Medical Director, Dr. Amado Alejandro Baez, MD- Chairman Emergency Medicine-Kings County Hospital, Chairman-Tactical Medicine, American College of Emergency Physicians, Dominic Marino, DVM - FBI/ATF K-9, Sgt. Arthur Kakis, EMT-P- Lead Tactical Medic- NY State Police S.O.R.T., USAF Para Rescue (Fmr), Detective Wallace Zeins- NYPD Hostage Negotiation Team (Ret), FF Bryan Kelly, EMT-P-FDNY Squad 1/FDNY Fire Academy and many more. Special guest appearance by New Orleans EMS Captain Keeley Williams from the hit show Nightwatch on A&E.
Who is the conference designed for?
The NY Tactical EMS Conference is designed for all first responders (Fire/EMS/Law Enforcement/RN/MD/DO/PAs/NPs/Personal Protective Detail/Security and others). The training symposium is designed to provide a different look at the incidents we encounter every day and those that can happen at any moment. These faculty members are sharing their knowledge and experience to help you respond and be as effective as possible when that critical moment strikes. We all know that Long Island is a very dynamic, multi-agency jurisdiction and has many hidden hazards that can present themselves at a moment's notice. There is no excuse not to be prepared and learn directly from those who have done it. Check out our faculty list at tacmedexpo.com/faculty.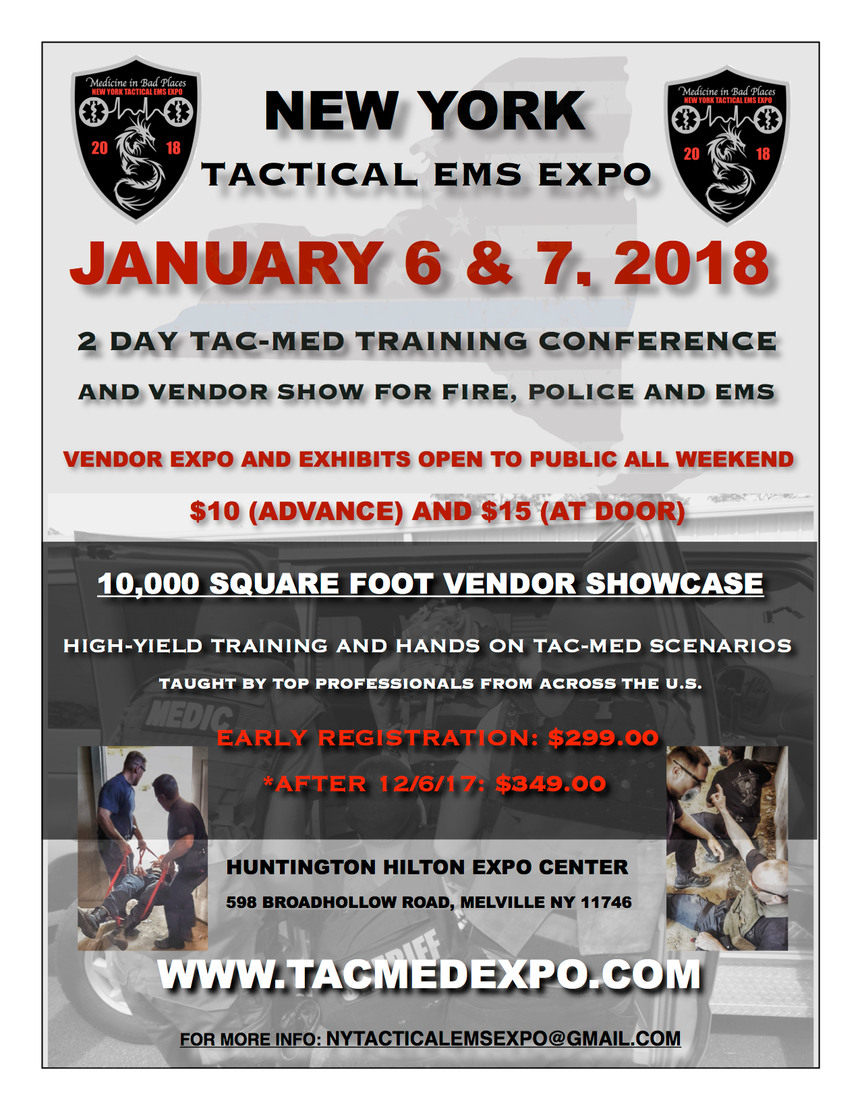 Register today at tacmedexpo.com
*Agency discounts available for 10+ members, contact NYTEMSEXPO@GMAIL.com for group discounts. 
New York Tactical EMS Expo and Training Symposium
Huntington Hilton Expo Center, 598 Walt Whitman Rd, Melville, NY 11747
January 6-7 2018
www.tacmedexpo.com