PRESS RELEASE
Boston University's Metropolitan College's criminal justice faculty attend IACP 2019
---
Visitors to exhibit booth #5106 learned about highly ranked criminal justice graduate programs.
November 2019: The highly regarded criminal justice programs at Boston University's Metropolitan College (MET) were represented at the 126th IACP Annual Conference and Exposition in Chicago, October 26–29. This year's International Association of Chiefs of Police (IACP) gathering featured more than 200 workshops designed to help law enforcement officials of every rank and position excel in the ever-changing field of law enforcement. IACP conference attendees visited Booth #5106 in the exhibit hall to meet MET faculty member Dr. Shea Cronin and gather information about graduate degree and certificate programs in criminal justice.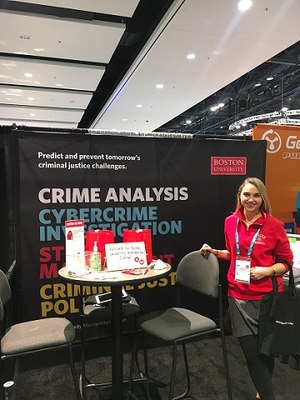 "The philosophy of MET's criminal justice program aligns with the IACP principles of 'advocacy, research, outreach, and education,'" noted Dr. Mary Ellen Mastrorilli, who chairs the Department of Applied Social Sciences at Metropolitan College. "Our programs produce forward-thinking graduates who bring strong analytical skills, evidence-based practices, and commitment to accountability to their roles in the criminal justice system."
MET's involvement with criminal justice education goes back to 1973. The College introduced its master's degree in criminal justice on campus in 1980; the same program became Boston University's first online program in 2002, bringing a rigorous, innovative curriculum and an engaging teaching model to students around the globe. Highly respected, the program has ranked among the top five Best Online Graduate Criminal Justice Programs each year since 2015 (U.S. News & World Report).
Emphasizing practical, insightful, and adaptable knowledge, MET's criminal justice curriculum develops practical skills that can be immediately applied on the job while informing career growth for years to come. For those seeking to advance in the ranks or hone leadership abilities, MET can provide professional insight, valuable connections and networks, and the unique perspective of faculty who combine subject-matter expertise and research-based insight with extensive field experience in law enforcement, corrections, cybercrime investigation and digital forensics, research and policy, forensic mental health, the judicial system, strategic management, and many other areas.
MET offers the following graduate programs in criminal justice, available both on campus and online:
Four-course graduate certificates include:
About the International Association of Chiefs of Police (IACP)
The International Association of Chiefs of Police (IACP) is the world's largest and most influential professional association for police leaders. With more than 30,000 members in 160 countries, the IACP is a recognized leader in global policing, committed to advancing safer communities through thoughtful, progressive police leadership. Since 1893, the association has been serving communities worldwide by speaking out on behalf of law enforcement and advancing leadership and professionalism in policing worldwide.
The IACP is a not-for-profit 501c(3) organization headquartered in Alexandria, Virginia. The IACP is the publisher of The Police Chief magazine, the leading periodical for law enforcement executives, and the host of the IACP Annual Conference, the largest police educational and technology exposition in the world. IACP membership is open to law enforcement professionals of all ranks, as well as non-sworn leaders across the criminal justice system. For information, visit theiacp.org.
About Boston University and Metropolitan College
Founded in 1839, Boston University is an internationally recognized institution of higher education and research. With more than 35,000 students, it is the fourth-largest private residential research university in the United States. BU consists of 17 schools and colleges, along with a number of multidisciplinary centers and institutes integral to the University's research and teaching mission. In 2012, BU joined the Association of American Universities (AAU), a consortium of 62 leading research universities in the United States and Canada.
For over half a century, Boston University's Metropolitan College has brought the scholarly rigor and resources of an internationally respected research university to busy, working adults via innovative, part-time programs. As one of the 17 degree-granting bodies at BU, MET offers more than 70 graduate and undergraduate degree and certificate programs evenings on campus, online, and in blended formats designed to meet the needs of both the local and global professional community. A laboratory and incubator for new programs, pedagogy, and educational technologies, MET ensures that students have access to cutting-edge facilities and the latest learning tools—as well as the opportunity to build networks with classmates and industry peers. For more information, visit bu.edu/met.

Request more info from Boston University Metro College
Thank You!